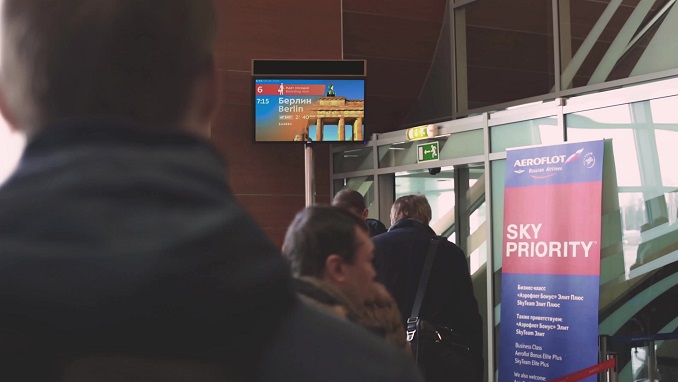 Art. Lebedev Studio has created a new visual concept to keep Sheremetyevo's passengers informed about self-service tools. Thanks to new content design, information about self-service opportunities has become extremely accessible without passengers having to focus on monitors and panels.
Monitors informing passengers about self-service tools are installed in inter-terminal trains and in the Terminal B. Alongside flight details, the main timetable of Terminal B displays information about self-service desks where passengers can drop off their baggage, check in for their flight and print out boarding passes. Everything is written in a large font accompanied by eye-catching visual elements.
Check-in and baggage drop off zones also feature information panels to help passengers navigate their way to desks with self-service tools available. Informational messages on the monitors also appear in English and Chinese.
After self-check-in and baggage drop off, passengers can find their way to the pre-flight security check area by following convenient navigation signs. The turnstiles at the entrance to the pre-flight security check also feature electronic panels displaying information on how to use boarding passes when entering.
Passengers who have passed security screening and reached the departures area are then able to check the status of their flight before the boarding announcement. The panels in front of boarding gates display concise information on the status of the three next flights, which allows travelers to plan their time effectively, sparing them the worry of being late for boarding.
Art. Lebedev Studio was founded in Moscow in 1995. Its main focus areas include industrial design, urban design, graphic design, environmental design, navigation systems, website creation, interface design, font creation, pattern design, architecture and book publishing.
Sheremetyevo International Airport is in the TOP-10 airport hubs in Europe, the largest Russian airport in terms of passenger and cargo transportation. In 2018, the airport served 45,836,000 passengers (14.3% year-over-year growth).
Last year saw Sheremetyevo top the ASQ ACI program's ranking for customer service among the largest airports in Europe whose passenger traffic exceeded 40 million per year and enter the list of the world's best airports — ACI Director General's Roll of Excellence. Sheremetyevo was recognized as the best airport in the world according to an analytical study conducted by British company Stasher.