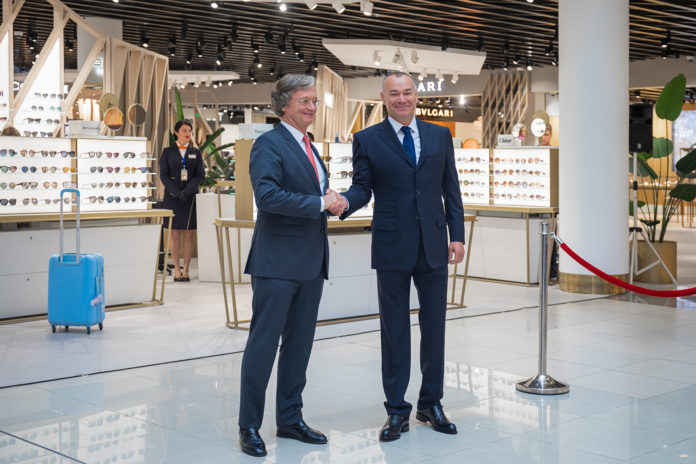 Imperial Duty Free JSC (IDF), the Russian joint venture between Sheremetyevo Airport (SVO) and Gebr. Heinemann, has achieved an 80-percent increase in its shopping area thanks to the acquisition and integration of new retail space. In total, the retail operation now serves more than 40 million customers across approximately 11,000 square meters of space every year.
In the new Terminal B alone, IDF has opened ten new shops: Main Shop, Gate Shop, Arrival Shop, Fashion & Accessories and Watches & Jewelry (FA + WJ) Boutique, Max Mara, Hugo Boss, Paul & Shark, CK Underwear, Traveller Concept and Kids Shop. In Terminal E, all four existing stores – Main Shop, FA + WJ Boutique, Swarovski and Kids Shop – have been fully redesigned with brighter atmospheres and clearer layouts, while also offering travelers greater choice. The Main Shop – for perfume and cosmetics (P&C) and liquor, tobacco and confectionery (LTC) – employs the walk-through principle, generating increased passenger interest and a visible rise in turnover.
IDF offers attractive luxury brands from the FA + WJ categories in an Accessories Boutique with a variety of three-wall boutiques and see-thru units inspired by major global department stores. A completely new and unique setting was developed here with the assistance of design studio Plajer + Franz: the diamond-pattern concept draws on the structure of the precious stone for the shop design and offers visitors a unique tour experience within the shopping gallery. Specially selected materials such as brass, oiled white oak and Italian terrazzo underscore the luxurious ambience of the designer setting.
The concept allows brand partners to make their mark on the sales floor with customized brand furniture. At the same time, it offers retailers greater flexibility, enabling new items to be showcased at short intervals, and thus providing for frequent redesigns that refresh and enhance the shopping experience. Both longstanding partners and new brands were acquired for the project, including Cartier, Coach, MCM and Pinko.
The Russian Constructivist design of the new Terminal B provides the optimal backdrop for a gallery of bright, open and contemporary shops with attractive offerings for domestic travelers. But while Russian passengers are happy to spend money and fulfill their taste for luxury, currency turbulence in recent years has affected purchasing behavior, making them more demanding and price-focused. Terminal B's new concept has shown that domestic travelers are willing to make purchases before they fly – if the offers and atmosphere are attractive enough. The new brands in the Fashion & Accessories area have been particularly well received, even so far as to largely compensate for the ban on the sale of alcohol and tobacco for domestic flights.
In Aeroflot's business strategy, SVO is seen as an important hub between Europe and Asia. For that reason, alongside Russian passengers, Asians are also a main target group. Asians' amenability to an above-average "spend per passenger" makes them consumers with a particularly high potential. At the same time, Asian customers are very focused on price, comparing prices in duty free shops with alternative offers online. This is why attractive prices must be the primary focus of SVO's travel retail market strategy.
SVO, Russia's largest airport, has been rated best airport in Europe for customer experience since 2012 by ACI (Airports Council International) ASQ (Airport Service Quality). In 2016 and 2017, it ranked first in Europe for the quality of passenger service in the category of airports with 25-40 million passengers per year.
SVO is also the base of Aeroflot, the biggest and fastest-growing Russian airline, with extremely ambitious growth targets. The airport is supporting Aeroflot's growth by building three new terminals, which are expected to double passenger capacity. The first of the three new terminals, Terminal B, is now open. The next (Terminal C1) is already under construction. IDF sees huge growth potential in the building of Terminal C1 as well as in the opening of additional arrival duty free stores, among other items.
"Thanks to our joint venture partnership with the airport, we are extremely close to what is going on and can develop the best concept for the other new terminals, thus guaranteeing economic success," says Claus Heinemann, co-owner of Gebr. Heinemann. "This is reflected in the growth plans for our joint company for the next few years."
Gebr. Heinemann is a top player in the international travel retail market and the European market leader. As a distributor, Gebr. Heinemann supplies more than 1,000 corporate customers in over 100 countries. The company operates more than 330 Heinemann Duty Free & Travel Value stores, fashion label boutiques under license and concept shops at 79 airports in 29 countries, along with outlets at border crossings and aboard cruise liners. Today, the Heinemann Duty Free brand operates at numerous airports worldwide. Its biggest Airport Duty Free shop is in Sydney.
"We are proud of our collaboration with Heinemann, a leading company with tremendous experience in the market, which is developing and utilizing innovative solutions for duty free retail spaces," says Alexander Ponomarenko, chairman of the board of directors of SVO International Airport JSC. "We hope passengers perceive the new duty free shopping area in a positive light, making our partnership with Heinemann a role model for international duty free ventures."
From October 2018, IDF will also join the loyalty program Heinemann&ME, enabling passengers at Sheremetyevo to take advantage of attractive online and offline offers as members along their entire journey.