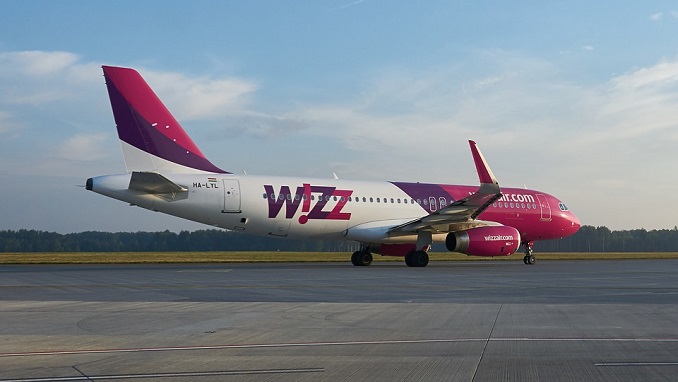 Hungary-based low-cost carrier (LCC) Wizz Air has confirmed the launch of four new routes from St Petersburg's Pulkovo Airport in the coming summer season, becoming the first airline to capitalize on the recently introduced seventh freedom traffic rights regime for the airport, Fontanka.ru reports.
In addition to its existing services to Budapest and London Luton, the LCC is introducing direct flights between Pulkovo and Sofia (Bulgaria), Bratislava (Slovakia), Vilnius (Lithuania) and Bucharest (Romania) commencing in June and July, Wizz Air's general director Joseph Varadi revealed at a St Petersburg press conference Monday.
The new flights will not just complement Wizz Air's existing service offering from Russia linking Moscow, St Petersburg and Kazan with Budapest and London, but are the beginning of a more ambitious project that may see as many as two dozen new routes and soaring traffic growth in the future.
Having enjoyed a spectacular 136 percent growth on its Russian routes last year, the LCC is expecting to quadruple its performance in 2020, and that is not the limit, Varadi insists. "The seventh-freedom air traffic right is a very new initiative for the EU, and [the regulators] have to digest that. They have to make up their mind [if they're going to participate] as a union, or on a country-by-country basis. After that we'll see more opportunities," he enthuses.
It is the coupling of seventh-freedom rights with fare deregulation and the introduction of the electronic visa – "which has finally been introduced in Russia after years of efforts," says Leonid Sergeyev, general director of Pulkovo's operator Northern Capital Gateway (NCG). "In [just] a few months since its introduction, some 60,000 tourists have benefited from the simplified procedure, half of them arriving by air," he points out. 
This is a precondition for success, and whilst currently, 70 percent of Wizz Air's passengers on Russian routes are Russian nationals, this proportion is likely to shift closer to 50/50 in the future, the executive pointed out.