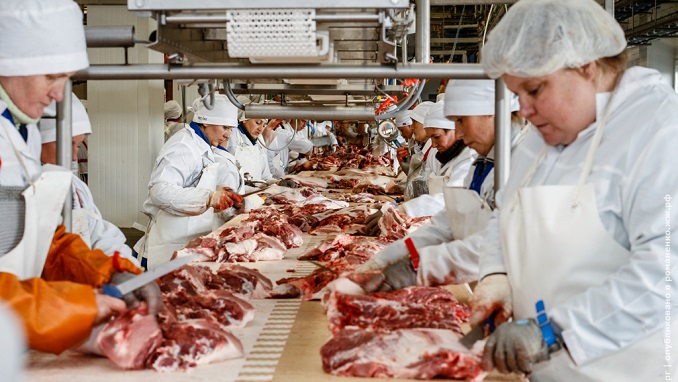 Over the past five years, Russia has reached self-sufficiency in pork and poultry says a recent report from USDA's Global Agricultural Information Network (GAIN).
"Overall, by 2018, Russia had met or exceeded six of the eight production targets set in its Food Security Doctrine of 2010. The successful development of the agricultural sector, together with several other factors – ruble devaluation, import substitution policies (including Russian food counter sanctions), domestic support and favorable weather – have affected Russia's agricultural goods trade balance. Imports slumped to the lowest level in 20 years in 2017," the report says.
In 1999, the share of agricultural goods in Russia's total imports exceeded 28.5%, according to the Russian Agricultural Bank.
"U.S. food and agricultural exports to Russia were growing, reaching a peak of $1.9 billion in 2008. Since 2014, Russian overall food and agricultural imports have been steadily declining and reached a low of 12.7% in 2017," the Bank reports. "At the same time, Russia's exports of agricultural and food products have been insignificant for decades, but have increased sharply on a percentage basis in recent years, from an average of 2% at most between 1995 and 2010 to 6% in 2016 and 5.8% in 2017."
According to Maxim Rubchenko, chief editor of the PRCB Group and "economic observer," a simple explanation for what caused the boom is that "Russia offered a combination of competitive pricing and high quality which the world's top grain importers found attractive."
"Nearly all market analysts admit that one of the main reasons for the boom of Russia's agricultural industry has been the sanctions war unleashed by the West in 2014. Following the imposition of European and U.S. sanctions, Russia announced retaliatory measures, limiting the import of Western food products," Rubchenko pointed out recently.
Russia's significant measures to increase domestic agricultural production have been successful, the GAIN report says, adding that agriculture is now the fourth top foreign currency earner for the economy after oil and gas, metals, and chemicals, according to the Russian government.