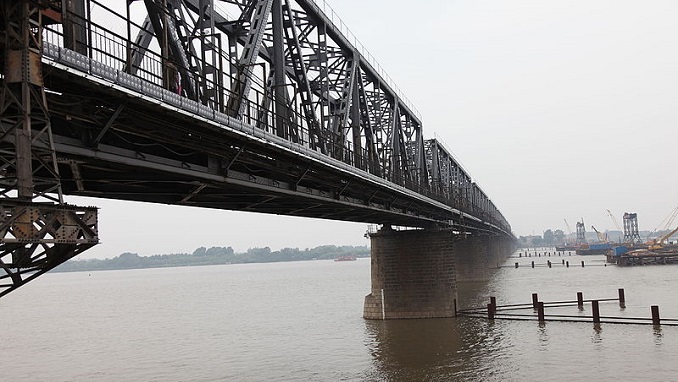 The two sides of a long-awaited bridge between Northeast China and the Russian Far East across the Amur River will be connected by the end of the week, Zvezda reported citing authorities.
Chinese authorities have ordered the construction of a customs and immigration facility for the bridge, which will serve as a railway link, as well as the first highway connection between the two countries, which share a 2,615 mile-long land border.
The bridge will link Heihe in Northeast China's Heilongjiang Province with the Russian Far East city of Blagoveshchensk across the Heilongjiang (Amur) River.
"Russia is expected to finish the installation of the last 132-meter-long [433-feet-long] steel bar on March 20-23, which will mark the official connection of the two sides of the bridge," said Li Huachao, the project's chief engineer.
The facility, built in Heihe, covers an area of 263,900 square meters and is 1.1 kilometers from the on-ramp of the Heilongjiang-Blagoveshchensk Bridge.
The inspection area for goods and passengers is a necessary facility of the road bridge, according to Chinese authorities. With an investment of 297 million yuan ($44.24 million), construction of the customs area is scheduled to be completed by October.
"Once the inspection facility is finished and opened, it will significantly boost the capacity of Heihe and help the border city play a vital role in the building of the China-Mongolia-Russia Economic Corridor," Heihe official Ma Li said. It could also become an important economic driver in Heilongjiang's further opening-up to Russia, Ma added.
The new customs and immigration station is expected to handle 6.2 million tons of cargo and 2.95 million travelers each year, the report said.