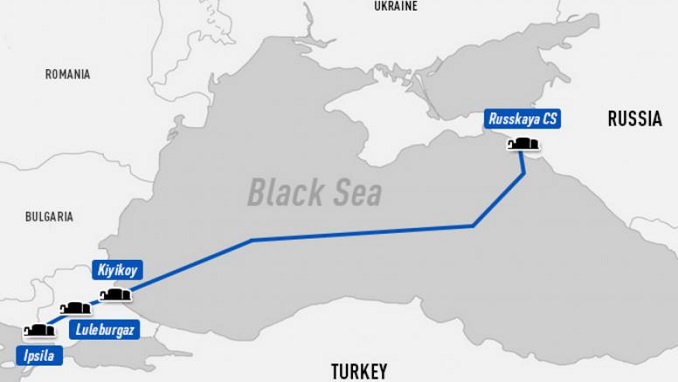 Bulgaria opened a new looping section of its transit gas pipeline to Turkey on Friday, expanding its capacity and adding the possibility of two-way flows as the Balkan country bids to transport Russian gas from the TurkStream pipeline to Europe.
Turkstream's main goal is to link Caspian Sea gas supplies with southeastern Europe via Turkey. The pipeline has a capacity of 32 billion cubic meters. In May, it was announced that a second branch of the pipeline would be directed to the EU's poorest country, Bulgaria, which is pitching itself as an honest broker in the region's gas business.
According to the plan, Bulgaria's Black Sea port of Varna will store and transport gas from Russia and the Caspian Sea to neighboring Romania, Greece and Serbia. Gazprom also wants to extend the pipeline right through Bulgaria to Austria's Baumgarten hub, which would require it to comply with EU rules on third party access, an issue that previously helped derail a similar project known as the South Stream pipeline.
The new 20-km looping link in south-eastern Bulgaria will boost the Transbalkan pipeline's capacity to 15.7 billion cubic meters (bcm) of gas per year from its current 14 bcm, and will help increase security of gas supplies, officials said.
"Now we have constructed a pipeline that will allow for reversible flows, so we can get gas from Turkey, from Azerbaijan and Russia," Prime Minister Boyko Borissov said at the official ceremony, which was also attended by Turkish Energy Minister Fatih Donmez.
Sofia has also launched a tender for an 11 km pipeline to provide a higher capacity link between the new looping section and the Turkish border. The process has been put on hold, however, as one Bulgarian company is appealing the tender conditions.
At present Russia's Gazprom ships about 13 bcm of gas through Ukraine and Bulgaria to Turkey. The shipments, however, may cease next year, when Moscow expects the first line of TurkStream to become operational.
Turkstream is part of the Kremlin's plans to bypass Ukraine, currently the main transit route for Russian gas to Europe, and strengthen its position in the European gas market.