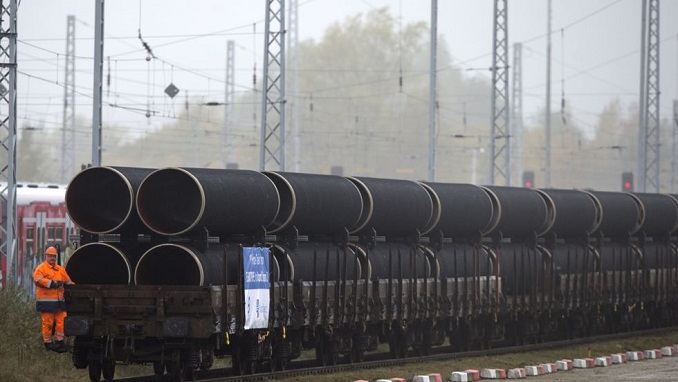 The updated EU directive may complicate, but not stop, the implementation of Russia's controversial gas pipeline Nord Stream 2, experts told the Izvestya newspaper.  
Amendments to the EU energy directive are being approved in Brussels and presumably, they may lower the productivity of the gas pipeline after its commissioning at the end of 2019. Nevertheless, experts interviewed by the newspaper stated that the updated European legislation does not pose a real danger to the project's implementation.
According to Jens Moeller, a representative of Nord Stream AG, at the moment, the pipeline's construction is fully on schedule and in accordance with European legislation.
Moeller says the operator is keeping a close eye on the EU energy legislation process. At the same time, the project itself is being implemented in full compliance with the current EU legal norms, he added.
Last week, the EU Committee of Permanent Representatives approved amendments to the EU gas directive. On March 4, the document should be approved by the Council of Ministers at the level of energy ministers, then it needs to be approved by the European Parliament and, finally, the Council of EU at the level of heads of state.
According to the latest version of the document, a company independent of Russia's state-owned giant Gazprom should operate Nord Stream 2, and 50% of the pipeline's capacity should be reserved for independent suppliers, which may indefinitely leave the pipeline half-empty. The most rigid option assumed that the European Commission would be the regulator of gas projects from third countries. However, at Germany's request, the amendments were toned down.
Sergey Pravosudov, Director General of the National Energy Institute told Izvestia that the EC still has the levers to delay the project's implementation. The Commission must issue a special permit to the country within 90 days, but practice shows this process can take years.
Experts interviewed by the newspaper believe the amended issue has practically been given the green light, so making any changes right now would only create more red tape and the current composition of the European Parliament might not have time to approve the agreed on version since the elections to the Parliament will be held on May 23-26, 2019.