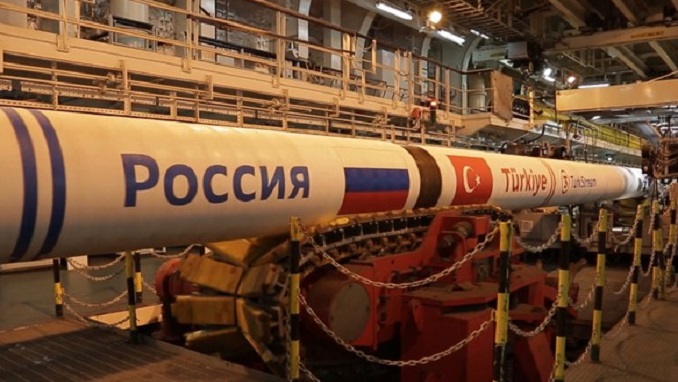 The world's largest pipelaying vessel, the Pioneering Spirit, reached the Turkish shore off Kiyikoy in northwest Turkey on Monday, finalizing the deep-water offshore construction of the first line of the TurkStream natural gas pipeline, Russian gas giant Gazprom said Monday, according to Platts.
The 31.5 billion cubic meters (Bcm) per year, two-string pipeline is set to begin flowing Russian gas in 2019, with the first line set to flow gas directly to Turkey to complement supplies through the other Russia-Turkey Black Sea pipeline, Blue Stream.
Russian gas deliveries to Turkey via the TransBalkan pipeline via Ukraine are expected to cease once TurkStream begins operations.
Turkey is a key market for Gazprom — its second-biggest export market after Germany — with supplies in 2017 reaching a record high of 29 Bcm.
TurkStream's spokesman Sander van Rootselaar also informed a group of journalists that to date 224 kilometers of the second line has been completed.
"For the offshore part, we have all the necessary permits. The onshore lines are beyond our remit. Those will be the responsibility of Turkey's BOTAS and Gazprom. They are in talks for a joint venture regarding the second onshore pipeline," he said, adding that the first gas from the project will be pumped in December 2019.
"The project is a clear benefit for Turkey as it's a direct line to the country. The negotiations for gas price are ongoing. We have to wait to see how they develop," he said.
The Swiss-based Allseas Group executed nearly 300 projects worldwide, installing more than 21,500 km of subsea pipeline in water depths ranging from 5 meters to 2,730 meters.
Gazprom deputy CEO Alexander Medvedev said Friday a final decision on routes and destinations of the second line would be made in "the nearest future" and that the TSOs of the respective transit countries would then begin work on their sections of the spurs.