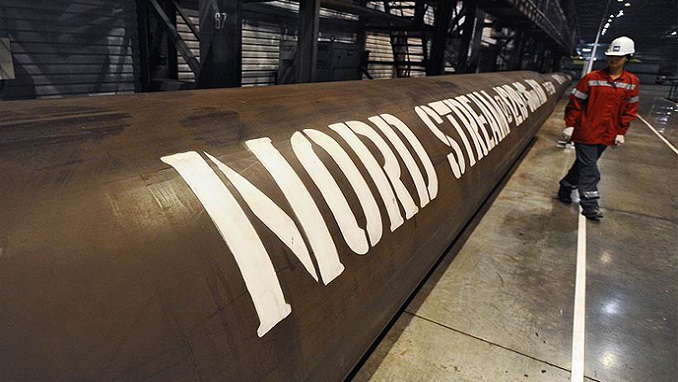 A key issue that undid an earlier deal on a new German coalition government, may now create more political havoc – seven members of the German Parliament from across the political spectrum have called on the government to clarify its position on the politically contentious planned Nord Stream 2 gas pipeline linking Russian sources with German consumers, Deutsche Welle reports.
"Real cooperation cannot mean that Germans and Russians agree on anything over the heads of our EU partners, so the EU is split, and trust is lost," the group wrote in a joint open letter to the German newspaper Frankfurter Allgemeine Zeitung.
"Russia sees the energy and the economy as a political weapon," Elmar Brok, a member of the European Parliament and co-author of the letter, told DW.
"Energy has always been a political weapon, as Putin himself has said, so this separation of politics and economics is extremely dangerous. We hope that there will again be a broad discussion in Germany and in other European countries."
The pipeline would concentrate almost all Russian exports to the EU to one route and, they argued, make it easier for Moscow to cut off Eastern Europe or bypass their transit networks.
With Germany being the EU's largest importer of Russian gas, the group of MPs also expressed fears that increasing the share of Russian gas in the German energy mix could give Moscow greater political leverage over Berlin.
If current plans go ahead the pipeline would complement the existing one, Nord Stream 1, with two extra lines and double the amount of gas transported from Russia to Germany.
These would run alongside the existing pipeline and are designed to carry 55 billion cubic meters of gas a year and be operational by 2019. The cost of the 1,200-km (746-mile) pipeline has been estimated at €9.5 billion ($10.3 billion) and construction is scheduled to begin this year.
Two German companies, Wintershall and Uniper, want to provide €950 million each to cofinance the project, although the bulk of the financing would be borne by Russian energy giant Gazprom, which would also supply the gas.
However, the majority of EU countries and the European Commission have been critical of the project. It is particularly opposed by Poland, Ukraine and the Baltic states over fears it would increase Europe's dependence on Russian gas and cut Ukraine off from gas transit fees.