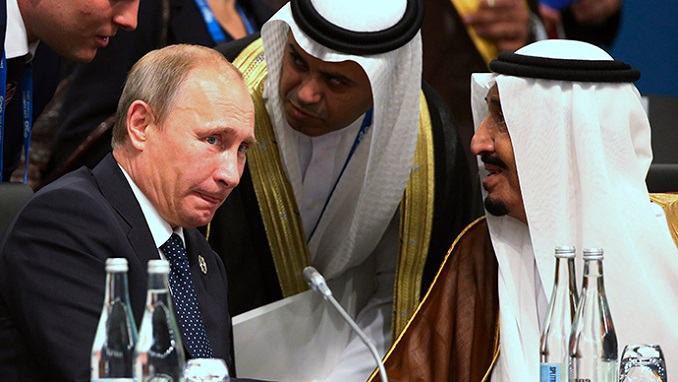 Saudi Arabia's energy minister said on Sunday his country is not looking to break with the global OPEC+ pact to cut oil output with other producers, The National writes. 
Media reports last week suggested Saudi Arabia could go its own way to deepen cuts to counter the impact of the coronavirus, according to the country's energy minister.
The kingdom, the world's largest exporter of crude, would continue to act in continuous dialogue with its partners who include non-members led by Russia, said Prince Abdulaziz bin Salman, who called rumors of a move to opt-out of the pact "absurd and utter nonsense".
Oil prices tumbled by 3% on Monday, as the rapid spread of a coronavirus in several countries outside China left investors fretting about a hit to demand.
Global shares also extended losses as concerns about the impact of the new virus grew, with the number of infections jumping in Iran, Italy and South Korea.
Brent crude was down $1.78, or 3%, to $56.72 a barrel by 0755 GMT, after falling to an intraday low of $56.53 earlier. U.S. crude futures fell by $1.53, or 2.9%, to $51.85.
Bin Salman's comments to Reuters followed a report in the Wall Street Journal, which suggested that Saudi Arabia, which has been calling for quicker, stronger action in the oil markets to counter the slide in oil prices following the virus outbreak.
The report suggested Saudi Arabia, Kuwait, and the UAE were in discussions to cut crude output by 300,000 bpd collectively should Russia be unwilling to participate in the deepening of cuts. An Opec+ technical committee recommended keeping the current pact, which rolls back 1.7 million bpd from the markets until the end of this year with a short term deepening of cuts by 600,000 bpd until the second quarter. 
While Gulf Arab states have shown their backing for the cuts, Russia's energy minister Alexander Novak remained skeptical of the impact of the virus in curbing oil demand growth and said the country needed more time to assess the full impact. Moscow also didn't agree to an emergency meeting of Opec+, choosing to wait until the planned meeting in Vienna that is scheduled for March 5 and 6 to review the pact.