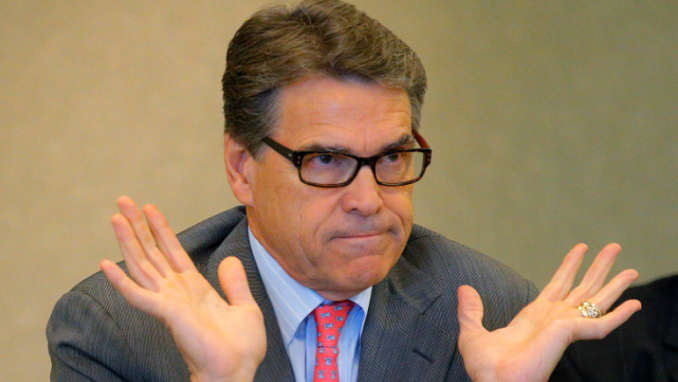 The United States welcomes competition from Russia on the global energy markets, but the country must no longer use energy as an economic weapon, U.S. Secretary of Energy Rick Perry said on Thursday during his meeting with Russia's Energy Minister Alexander Novak in Moscow.
According to Platts, at the meeting "Perry also expressed his disappointment and concern about Russia's continued attempts to infiltrate the American electric grid," a statement from the U.S. Department of Energy on the meeting says.
"Secretary Perry made clear that while the United States welcomes competition with Russia in energy markets across Europe, Asia and elsewhere, Moscow can no longer use energy as an economic weapon. The United States is now in a position to offer these nations an alternative source of supply," the DOE said.
Russian gas giant Gazprom, which holds a third of European natural gas market, has in the past cut supply to Europe via Ukraine due to disputes over pricing and has prevented customers from reselling natural gas, dominating most of the markets in central and south-eastern Europe.
Referring to the controversial Gazprom-led Nord Stream 2 gas pipeline project to Germany, Perry said: "President Trump has made clear that the United States staunchly opposes the Nord Stream 2 Pipeline, which would expand a single-source gas artery deep into Europe," the DOE said.
"The U.S. supports the desire of European nations to minimize their dependence on Russia as a single energy supplier, and look forward to increasing LNG exports to the region, as announced by President Trump and EU President Juncker in June."
When asked if the U.S. could impose sanctions on Nord Stream 2 and if more energy sanctions were being planned, Secretary Perry told reporters, "Yes to your first question and yes to your second. However, sanctions are not where the U.S. and Russia want to go," Perry said.
Novak, for his part, said that Russia agrees that "energy cannot be a tool to exercise pressure and that consumers should be able to choose the suppliers."
The Russian minister said the government was concerned about the prospect of sanctions on Nord Stream 2.
"Considering the answer of Mr. Perry, I will respond we are concerned of statements made regarding introduction of sanctions against an absolutely competitive project, which is of interest for European consumers," Novak said.