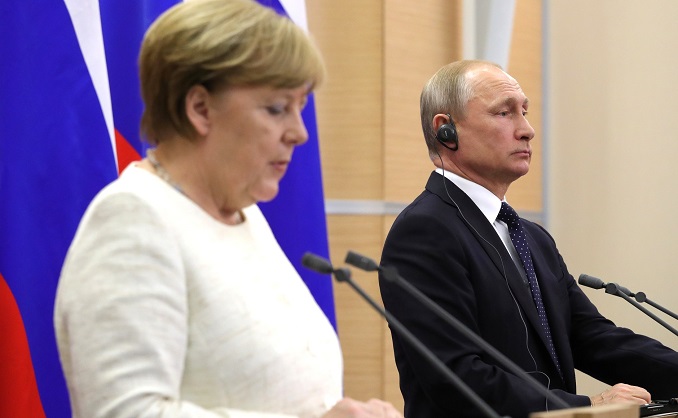 Russian President Vladimir Putin and German Chancellor Angela Merkel, during a telephone conversation on Sunday at the Berlin initiative, reaffirmed their commitment to further support the Nord Stream 2 project and noted progress in negotiations to continue gas transit through Ukraine, TASS reported citing the Kremlin press service.
"The issues of cooperation in the gas sector were discussed. The mood for further support of the Nord Stream-2 project was confirmed. Progress was noted in negotiations on the continuation of Russian gas transit through Ukraine after January 1, 2020," the press service said.
On December 20, US President Donald Trump signed the US defense budget providing for sanctions against companies participating in the construction of the Nord Stream 2 and Turkish Stream pipelines. Due to the threat of US sanctions, the Swiss company Allseas, laying pipes for Nord Stream 2, suspended work and recalled the vessels involved in the project.
Russian Energy Minister Alexander Novak previously stated that the project operator Nord Stream 2 AG could complete the Nord Stream 2 project even without the participation of foreign contractors and their pipe layers. Within several months, the corresponding organizational work will be carried out in Russia. According to him, the RF Ministry of Energy expects the launch of Nord Stream-2 by the end of 2020.
At present, negotiations between Gazprom and representatives of Ukraine on an agreement on gas transit to Europe continue in Vienna.
On December 20, Moscow and Kyiv announced the approval of a new gas transit contract (valid expires December 31, 2019) for a period of five years, as well as the settlement of mutual claims between Gazprom and Naftogaz. The parties agreed to waive new mutual claims, withdraw reciprocal claims, pay Gazprom about $2.9 billion by the decision of the Stockholm arbitration and settlement agreement on antitrust proceedings against Gazprom in Ukraine. On Friday, Gazprom announced the payment of $2.9 billion to Naftogaz.