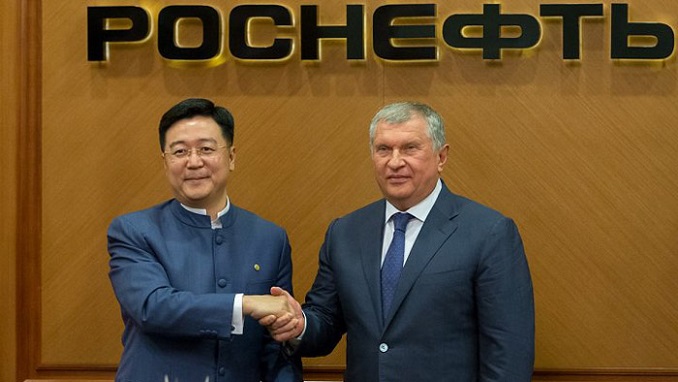 A new interest rate hike announced by the U.S. Federal Reserve last week is an important factor for a slump in global oil prices last week, the head of Russian oil giant Rosneft Igor Sechin has said, according to Finanz.ru.
Sechin, a long-standing Kremlin insider and ally of Russian President Vladimir Putin, also said he saw oil prices at $50-53 per barrel next year "under a conservative scenario."
Oil prices have fallen by more than a third this quarter, hovering just above $50 per barrel on worries over the world economy despite a global agreement, clinched earlier this month, to cut oil production.
Earlier this month, the Fed raised rates by a quarter percentage point for the fourth time this year to a range of 2.25 percent to 2.50 percent.
"This factor is the main one, which has an impact on the price (of oil)," Sechin told reporters in the Kremlin ahead of a meeting between Putin and leading Russian businessmen.
Sechin, Russia's most influential energy official, said the fact that the United States, which is poised to become world's top oil producer, was not a party to the global deal also put pressure on oil prices.
Oil prices fell sharply Thursday, a day after a gain of some 8%, breaking a three-straight losing run. Perceived riskier assets were taking a hit Thursday, with Dow Jones Industrial Average futures tumbling over 300 points, a day after a historic 1,000-point climb.
February West Texas Intermediate crude climbed 8.6% to $46.22 a barrel on Wednesday, the biggest one-day price and percentage gain since late 2016. However, Thursday saw that contract down roughly $1, or 2.1%, to $45.23 a barrel. February Brent slid $1.20, or 2.2%, to $53.27 a barrel. The contract surged nearly 8% to $54.47 a barrel on Wednesday.