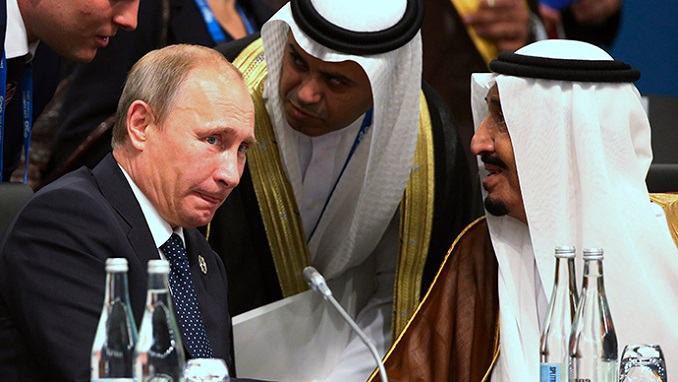 According to a new Reuters report, Russia and Saudi Arabia "struck a private deal" last month to raise oil output to cool rising prices and informed the United States before a meeting in Algiers with other producers.
In September, U.S. President Donald Trump blamed the Organization of the Petroleum Exporting Countries (OPEC) for high crude prices and called on it to boost output to bring down fuel costs before the U.S. congressional elections on November 6.
The deal underlines how Russia and Saudi Arabia are increasingly deciding oil output policies bilaterally, before consulting with the rest of OPEC, Reuters wrote.
According to four sources familiar with the plan, Saudi Energy Minister Khalid al-Falih and his Russian counterpart Alexander Novak agreed during a series of meetings to lift output from September through December as crude headed toward $80 a barrel. It is now over $85.
"The Russians and the Saudis agreed to add barrels to the market quietly with a view not to look like they are acting on Trump's order to pump more," one source said.
"The Saudi minister told (U.S. Energy Secretary Rick) Perry that Saudi Arabia will raise output if its customers asked for more oil," another source said.
Originally, the two countries had hoped to announce an overall increase of 500,000 barrels per day (bpd) from Saudi-led OPEC and non-OPEC Russia at a gathering of oil ministers in Algiers at the end of September.
But with opposition from some in OPEC, including Iran which is subject to U.S. sanctions, they decided to defer any formal decision until a full OPEC meeting in December.
"Saudi is trying to thread a needle with a rope by satisfying customer concerns about higher oil prices, but also wanting to keep prices from falling and sending the wrong price signal to industry which absolutely needs to continue to invest to prevent a supply crunch," Yasser Elguindi, energy market strategist at consultancy Energy said.
Executives at the world's biggest oil and gas companies are under growing pressure to loosen the purse strings to replenish reserves and halt declines in crude production after years of austerity.