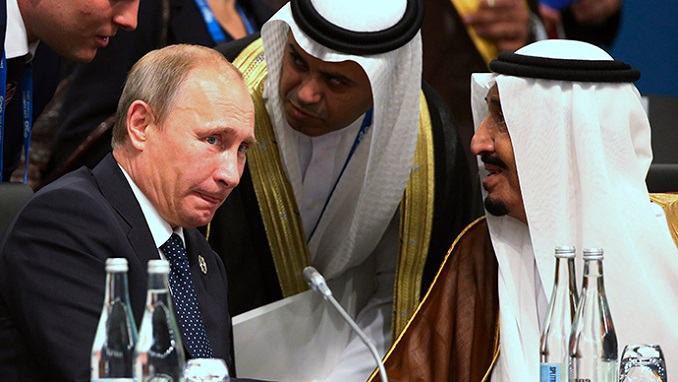 Russia and Saudi Arabia will ask OPEC to hike production by 1.5 million barrels a day in the third quarter of 2018, Russian Energy Minister Alexander Novak said on Saturday, according to Russian media.
OPEC and Russia decided together in 2016 to cut their supply in order to push prices up following a crash induced by a global crude production glut. An oil production shortfall in Iran and Venezuela has changed the scenario for the two countries and members of the oil cartel.
Novak said Moscow and Riyadh "propose increasing production in the third quarter by 1.5 (million bpd)," RIA news agency reported. "We are only proposing this for the third quarter. In September we will review the situation in the market and decide the future course."
Russian President Vladimir Putin and Novak met Saudi Saudi Crown Prince Mohammed bin Salman before the opening World Cup match in Moscow.
Since 2017, an OPEC agreement on production cuts has allowed oil prices to rise but there are fears that renewed American sanctions on Iran and a fall in output in crisis-hit Venezuela could disrupt supply.
Russia, Saudia Arabia and other OPEC members agreed in late 2016 to begin curbing oil output in order to raise prices. After falling to sub-$30 a barrel in early 2016 for Brent, the global benchmark, and West Texas Intermediate, the U.S. benchmark, oil prices have risen to about $76 and $67 a barrel respectively.
Crude oil demand now outstrips supply, and OPEC members will meet in Vienna this week to debate whether to lift the 18-month-old production cap to stabilize prices.