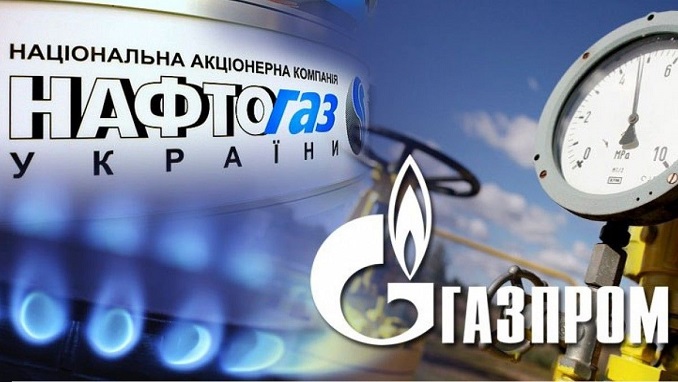 Ukraine's national gas company Naftogaz has confirmed that an agreement has been achieved to hold a meeting with Russia's Gazprom to try and reconcile an ongoing gas row, the Ukrainian company's press service reported.
"Naftogaz and Gazprom will meet to discuss the situation. Naftogaz sees no need to cancel contracts and expects Gazprom to implement the Stockholm Arbitration decisions. The parties will discuss the proposal of Naftogaz to review the transit tariff," the company posted on Facebook.
On February 28, the Arbitration Institute of the Stockholm Chamber of Commerce obliged Gazprom to pay Naftogaz $4.63 billion in compensation for the failure to meet its gas transit obligations. According to Naftogaz, this ruling means that Gazprom must pay Ukraine about $2.56 billion, taking into account the final payment for gas supplied in 2014 and 2015.
Gazprom, after the Stockholm arbitration decision not in its favor, had launched the process of terminating contracts for the supply and transit of gas with Ukraine's Naftogaz and returned the prepayment to the Ukrainian company.
On March 1, Gazprom said that Naftogaz has made an advance payment for the resumption of Russian gas supplies from March. At the same time, Gazprom refunded the money, stating that this was due to the lack of an agreed addendum to the current contract. Naftogaz called Gazprom's refusal to supply gas a violation of the agreement and failure to comply with the arbitration decision.
As Gazprom's gas exports to Europe keep rising – its market share, now at 33%, could rise to over 40% by 2035 – and relations with Russia seem to keep getting worse, the question of how the EU should deal with its energy dependence on Russia is becoming ever more urgent.
The Atlantic Council – a bipartisan U.S. organization that promotes U.S.-European relations has just analyzed the effect of the U.S. and EU sanctions on Russia's energy sector. It concludes that they have had a negligible effect.
"While sanctions have significantly impacted the Russian economy, they missed their mark when it comes to energy. Russia's oil production and investment is thriving, growing every year since sanctions were imposed with production growth hitting an eleven year high in 2016," the report says.
"Even though oil and gas prices have dropped precipitously since 2014, Russia is still comfortably managing its energy sector. In fact, the United States and the European Union may have done Russia a favor, suspending high-cost projects, including offshore Arctic development, that would not be economic at current prices," The Atlantic Council says.