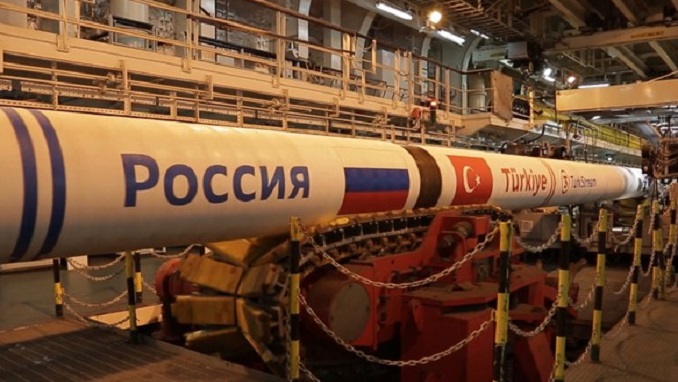 Russia's TurkStream natural gas pipeline, expected to begin operating in the coming month, will bring cheaper gas for Turkey, professor Salih Yilmaz from the Institute of Russian studies (RUSEN) told state-run Anadolu Agency on Tuesday.
The Russian economy, which is heavily dependent on energy income, needs to continue to sell its gas to Europe, said Yilmaz, who heads the Ankara-based think-tank.
TurkStream is set to have a total capacity of 31.5 billion cubic meters (bcm), out of which the first line will carry a capacity of 15.75 bcm of Russian gas to Turkish consumers. The second line will carry another 15.75 bcm of gas to Europe via Turkey.
"During Soviet times, Russia has sent its oil and gas to Europe via Ukraine. However, the distribution of gas supplies became risky in 2014 when the crisis between Russia and Ukraine erupted due to the annexation of Crimea. This, in turn, increased the importance of the TurkStream project for Russia as an alternative route to transmit gas to Europe while bypassing Ukraine," the expert noted.
The TurkStream project has also gained strategic prominence as an alternative supply source to that of the Nord Stream 2 pipeline that carries Russian gas to Germany and which is subject to pressure from the U.S.
U.S. pressure has also affected Bulgaria in its decision to proceed with the Bulgarian section of the TurkStream pipeline coupled with pressure from some European countries.
According to Yilmaz, the project will ensure the energy supply security in the region, boost the geostrategic importance of Turkey as well as allow Ankara and Moscow to wield greater political and energy influence in the Balkans and Central Europe.