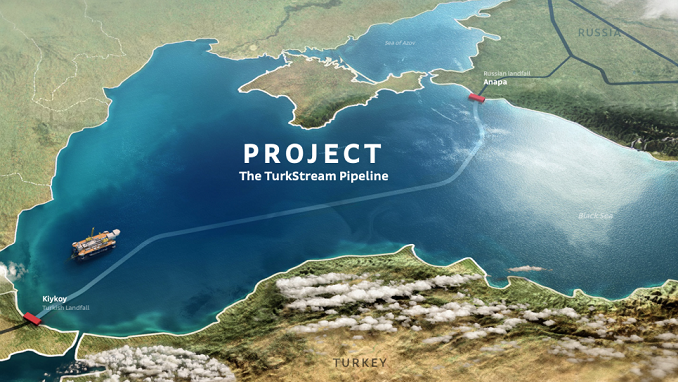 Italy's oil and gas giant, Eni, and its national gas transport operator Snam are ready to consider investing in the extension of the Turkish Stream project and natural gas delivery through Bulgaria to Austria, Eni CEO Claudio Descalzi and Snam CEO Marco Alvera have said.
According to Interfax, the two officials explained that Italy, which is expected to receive gas through the Baumgarten hub, would like to ensure sufficient gas supplies for itself after Russia's Gazprom energy giant stops transit through Ukraine.
The European media is referring to the Turkish Stream's second leg project aimed at southern and southeastern Europe as South Stream Lite. It appears that the second leg can replicate the route of the South Stream's onshore extension running through the European Union.
South Stream Lite is not the only option for extension of Turkish Stream. Potential alternatives are the Trans Adriatic Gas pipeline that is expected to run through Greece and Albania to Italy and IGI-Poseidon, which stipulates supplies from Turkey through Greece and Italy.
According to Sergei Pravosudov, Director General of the National Energy Institute, the second leg of the Turkish Stream does not imply any large-scale construction of a new gas transportation system in the EU, the matter in question is "modernizing the existing infrastructure and creating relatively small connecting gas pipelines."
However, other analysts are somewhat skeptical about the prospects for Turkish Stream's second leg.
"Any interconnector between Southern Europe and Italy is attractive in terms of its prospects, but only if the EU agrees with Turkey's rising status because this arrangement makes it the key transportation and gas hub in the region," said Artyom Deyev, a leading analyst at AMarkets.
"South Stream Lite runs through a large number of small countries, which have failed us on numerous occasions in terms of implementing gas projects, constantly changing their stance under pressure from EU commissioners," stressed Anna Kokoreva, Deputy Director of the Analytical Department at Alpari.
"We believe that Brussels will undoubtedly oppose this project citing Gazprom's monopoly in the markets."