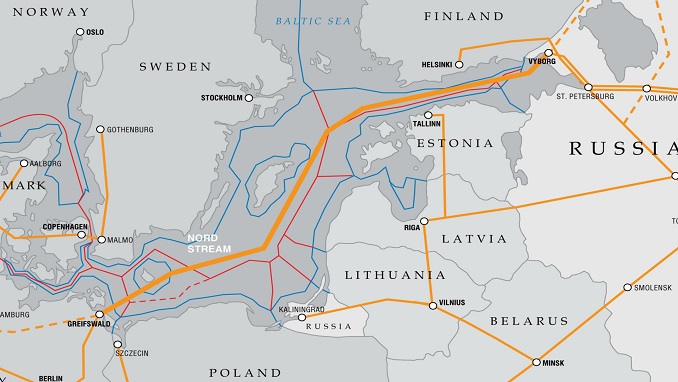 Ukraine and Moldova have stepped up their criticism of the Nord Stream 2 gas pipeline project – a Russian venture intended to bring Russian gas directly to Germany.
Andriy Parubiy, the Ukrainian parliament speaker has said the real nature of the Nord Stream 2 pipeline project is far from being economic – "this is a political initiative by Putin aimed at destabilizing Europe and depressing European countries," Parubiy said, according to Unian. He was speaking at an inter-parliamentary conference incorporating Georgia, Moldova and Ukraine which discussed the Eastern Partnership and current security challenges.
A letter, signed by Parubiy and the speaker of the Moldovan parliament Andrian Candu, has been addressed to the chairmen of all European parliaments, and will next week be signed by Lithuania and Poland.
"This is a case about which we can speak with one voice," said Parubiy, underlining the Russian attempt to weaken Ukraine and Moldova.
Russia disagrees. "We support the implementation of this project, which is undoubtedly, absolutely free from politics. This is a purely economic and moreover purely commercial project," replied Russian President Vladimir Putin after meeting the Austrian chancellor, Sebastian Kurz.
The Nord Stream 2 pipeline calls for the construction of two segments of a pipeline from the Russian coast through the Baltic Sea to Germany. It will have a capacity of 55 billion cubic metres of gas per year. It is currently entirely financed by the Russian energy giant Gazprom, which is also is the majority owner together with five other European energy companies from Germany, France, Britain and the Netherlands.
Several Eastern European countries, backed by the U.S., have already opposed the controversial project, saying it will increase Europe's dependence on Russian gas.
Ukraine believes that elaborating a common resistance strategy is a vital necessity, not only for Ukraine, Moldova and Georgia but "for the whole free world."
"There is an acute need to reach a common stance on energy security," Parubiy said. "Ukraine – and other countries – already feel the consequences of Russia's energy blackmail."