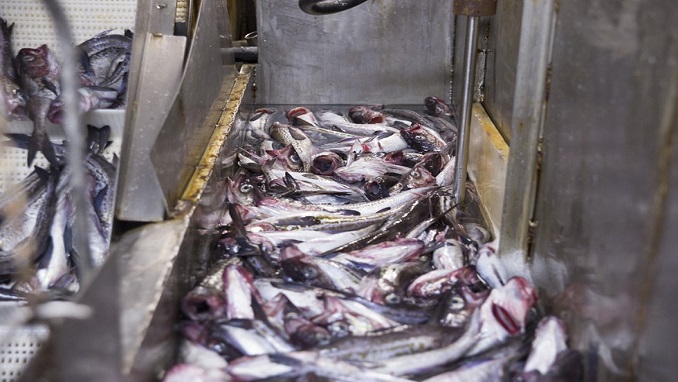 Russian-caught fish sold in the U.S. is enjoying a price advantage inadvertently protected by a trade decision by the Trump administration, and much of the cheaper Russian product ends up in fish sticks served to American school children, CNN writes.
Russian pollock costs less than its U.S.-caught equivalent, and foreign competition from Russia has long frustrated Alaskan fishermen. This cold-water cousin of the cod is caught in Russian waters before being processed in China and then sold in the U.S. for use in frozen and breaded fish products, as well as imitation crab meat.
That's helped it gain share of the roughly $200 million U.S. market for frozen pollock, to the point that by 2017 about half the fish sticks served in U.S. school cafeterias were made from fish caught in Russia and pumped with additives in China, according to the Genuine Alaska Pollock Producers, a trade group that represents 14 different seafood companies.
U.S. fish producers thought President Donald Trump would fix all that. The administration's move to slap a 10% tariff last year on thousands of imports from China was supposed to erase the price advantage enjoyed by Russian fish. But instead of fixing the problem, the Trump administration has made things worse for Alaskan fishermen, CNN writes.
But the office of the U.S. Trade Representative (USTR) ended up excluding Russian pollock from the tariffs, preserving its price advantage over domestic-caught fish. On top of that, China's retaliatory tariffs against the U.S. means that Alaska's pollock producers are now subject to an additional 25% tariff, limiting their access to the growing Chinese market.
"At the center of the gaffe is confusing nomenclature and an arcane coding system that trade and customs officials use to label thousands of products that come into the U.S. every day. The common name for the species, no matter where it's caught, is 'Alaska pollock', though it's also called 'walleye pollock'. Up until 2015, pollock caught in Russian waters was still marketed as 'Alaska' pollock. That year Congress legislated that only pollock from Alaska could be called Alaska pollock, at least in the U.S.," the CNN report says.
While that helped consumers trying to differentiate between foreign and American fish in the frozen food aisle, it wasn't much help last year to bureaucrats having to navigate international customs codes. That's because the tariff codes used by the USTR still identify the fish as "Alaska pollock" regardless of its origin, the report adds.