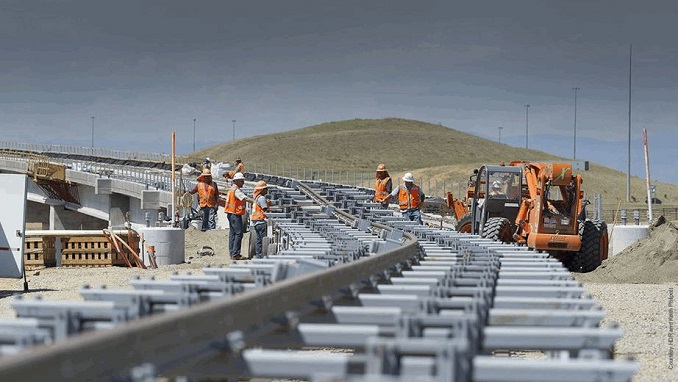 Nigeria's federal government is negotiating with Russia's Exim Bank and other investors from India to raise $46 billion to fund a massive railway modernization project, All Africa reports.
The country's transport minister, Rotimi Amaechi, revealed on Tuesday that President Muhammadu Buhari had given approval for a loan which will be used for the completion of three railway lines running from Lagos – Kano, Lagos – Calabar, and Port Harcourt -Maiduguri.
Amaechi, along with other officers and representatives of the China Civil Engineering Construction Company (CCECC), witnessed the laying of tracks on the 156-kilometer long line.
He said the three strategic national rail network would cost $46billion. According to the minister, the country was already talking with investors from Russia, India, and America to provide the counterpart funding.
"There is nowhere in the world where the railway is constructed by private money. Usually, it is vexed with the government but we may have to borrow because the money is not there. I was in India to look for money and there are people talking to me. I also had a meeting with Russian Exim Bank. Any of them that gives us money will be welcomed because the Chinese are already funding the Lagos – Kano line. The president has given the clearance for talks with investors," Amaechi said.
Russia-Nigeria economic cooperation has been on the rise recently after years of stagnation. Last month, President Vladimir Putin said his country is "interested in broadening ties" with Nigeria.
"We very much appreciate our relations with Nigeria, an important partner for us on the African continent. We support the further expansion of mutually beneficial Russian-Nigerian ties, including cooperation on hydrocarbon extraction and aluminum production, as well as in the military-technical field," Putin told newly appointed Nigerian ambassador to Moscow, Professor Steve Davies Ugba on April 18.