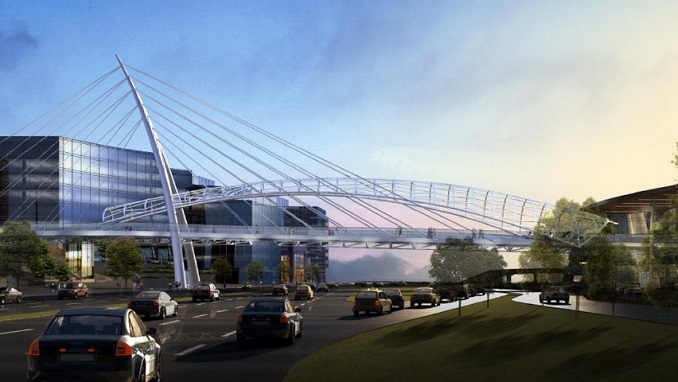 Russia-Azerbaijan economic ties are strengthening in 2018, with an array of projects underway in construction, pharmacology, and the automotive industry.
A jointly funded, new 325-meter bridge across the Samur River is planned to be put in operation at the beginning of next year, connecting Russia and Azerbaijan.
According to Azerbaijan's Minister of Economy, Shakhin Mustafayev, the project is very much in demand by transport systems both of Russia and Azerbaijan.
"It opens up opportunities for further cooperation, trade, as well as comfortable passenger transportation and efficient freight traffic', Transport Minister Maxim Sokolov, said at the launching of the bridge construction last year, adding that the bridge cost around $20 million.
Meanwhile, Mustafayev announced another project at a joint Azerbaijani-Russian company. A packing line will be commissioned at the pharmaceutical plant Hayat Pharm by late 2018, the Economy Minister said.
Previously, Azerbaijani Deputy Economy Minister Niyazi Safarov noted that $74 million has been invested in the plant's construction.
In another example of the growing Russia-Azerbaijan economic cooperation, a Memorandum of Cooperation was signed between companies from the automotive industry to assemble Russian GAZ commercial vehicles in Azerbaijan. The vehicles will be assembled in the Hajigabul Industrial Zone.
The document was signed in the presence of Azerbaijani Minister Mustafayev and Russian Minister of Economic Development Maksim Oreshkin, who is on a visit to Baku.
Also, a memorandum of cooperation between the Shahdag ski resort and the association of resorts of the North Caucasus was signed.
In a statement last week, the Russian Foreign Ministry further acknowledged Azerbaijan's status as a strategic partner for Moscow.
"Russia considers its relations with Azerbaijan as a foreign policy priority," Russian Foreign Ministry spokesperson Maria Zakharova told a briefing April 19.
Zakharova said Russia and Azerbaijan have strategic partnership relations, noting the "growth of bilateral relations in the economic, political and humanitarian areas."