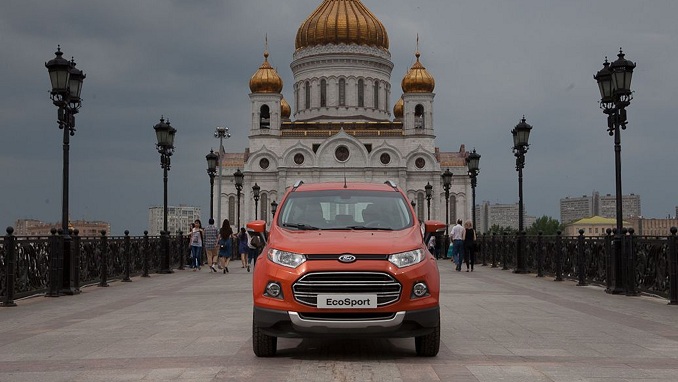 About 3,700 workers in Ford plants in Russia slated for closure are fighting to get a fair payout after the U.S. carmaker decided to dramatically cut its presence in the country, the Moscow Times reports.
Ivan, a 50-year-old welder, has been producing the frames of Focus and Mondeo cars at the U.S. automaker's plant in Vsevolozhsk for more than a decade.
"I've been working at this factory for the past 13 years, so I don't have any experience with jumping from job to job," Ivan said on a recent spring morning, as he and hundreds of his colleagues packed Vsevolozhsk's town hall for a meeting with government officials about their future.
Russia's economic downturn since 2014, coupled with the effects of Western economic sanctions following the annexation of Crimea, have hit the automobile industry and Ford hard, cutting sales of cars in the country by more than half. After years of losses, Ford announced late last month that it would cease production of all passenger cars in Russia, citing "inadequate returns on invested capital."
The workers will now face the daunting task of looking for employment in a region where most vacancies advertise salaries of just 25,000 rubles ($390) per month — half the average wage at Ford and hardly enough to meet living costs.
Ford Sollers, the joint venture that has operated the Vsevolozhsk plant since 2011, has offered the workers severance packages equal to up to 12 months' salary. But that's not cutting it with the factory's union, The Ford Primary Trade Union Organization, which counts nearly half of the workers as members.
Citing the severance packages the automaker has paid to its workers at other shuttered factories around the world, the union has demanded compensation equal to two years' salary.
"Ford always told us we were part of a global team and that we would be treated equally, no matter where we were based in the world. But in practice, we're being treated as if we were from different classes," said Mikhail Sergeyev, the leader of the union.
Some of the workers said they suffered from health problems because of their work at the factory. To make matters worse, older workers were pushed five years further from retirement when Russia's government increased the legal pension age late last year to 65 years for men and 60 for women.
But they are most angry about the severance packages they say are being forced to sign by Ford Sollers.
In its statement on the closure of the Vsevolozhsk factory, along with two other plants in the country, Ford Motor Company said it would allocate $200 million in cash in Russia "primarily attributable to separation and termination payments for employees and suppliers." Ford's only remaining plant in Russia will produce Transit light commercial vehicles.