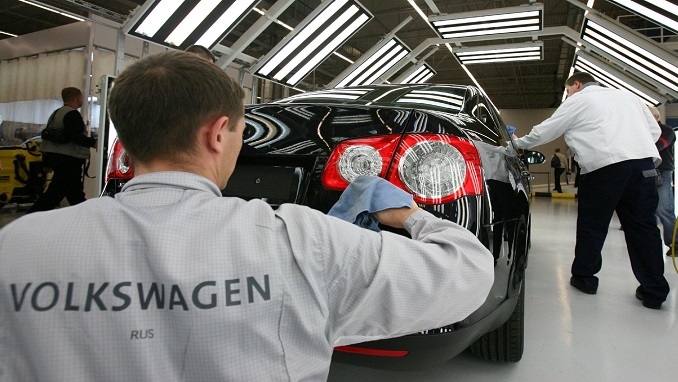 Volkswagen sales in Russia reached 89,600 cars last year, the company reported and added that that is 20.5 percent more than the sales reached in 2016. Polo and Tiguan, produced at the Kaluga-based Volkswagen Group Rus plant, were most popular. The company informed that in December, the brand demonstrated the best result over 2017: as many as 10,400 cars were sold to clients, or 36.6% more than in the same period of 2016 (7,600 cars).
Volkswagen has two plants in Russia. One in the city of Kaluga and one in the Volga district's Nizhny Novgorod. The Kaluga-based plant has an annual capacity of 225,000 cars, while the designated capacity of the plant in Nizhny Novgorod is 132,000 cars a year, TASS reports.
Meanwhile, BMW has set up a subsidiary in Russia's Kaliningrad. The subsidiary is called BMW Russland Automotive LLC and is part of the program of the company on production development in the country, TASS reports citing an unnamed representative of BMW.
"Indeed, the company named BMW Russland Automotive LLC has been registered in Kaliningrad. This is a planned step as part of our work to develop production in Russia," he said.
The representative added that they were in talks that had so far been dry and that they had not made a decision on production in Russia. According to him, this was a step in that direction. Denis Manturov, Russia's Industry and Trade Minister, recently said that BMW is negotiating project on plant construction with St. Petersburg, the Moscow Region and Kaliningrad.
In late March 2017 the German company unveiled plans to take a decision on plant construction in Kaliningrad. TASS informs that the plan was to define the parameters of a special investment contract – a new mechanism to support foreign and local industrial producers providing an advantage of guaranteed fixed tax conditions in exchange for investments from the side of business – by June. The production is to be set up in two stages with the capacity of 25,000 cars per year.