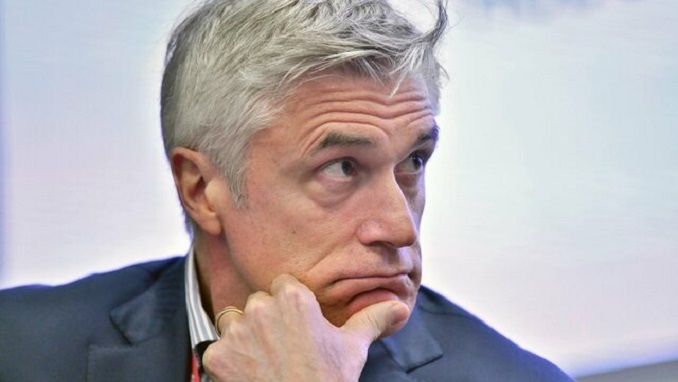 Michael Calvey, founder of the Baring Vostok private equity firm, believes that his actions the investigation regarded as a 2.5 bln rubles ($33.7 mln) embezzlement were a necessary measure to save Vostochny Bank. He made it clear in a statement in the Meshchansky Court in Moscow on Wednesday, a TASS correspondent reported from the courtroom.
"I thought that the issuance of loans to the First Collection Bureau was a reasonable and the only possible solution. I knew that if these settlements were not made by the end of 2015, then Vostochny Bank had every reason to lose its license. This would do damage not only to shareholders and investors of the bank, but also to three million depositors. This would destroy a rather large and promising bank," Calvey said.
On Wednesday, Calvey began testifying in the embezzlement case. Earlier, he and six other defendants in the case pleaded not guilty.
According to Calvey's testimony, in 2015, the Vostochny Bank found itself in dire financial straits after its previous owners had left Eurobonds worth 5 bln rubles ($67 mln) as collateral in Cyprus. In early 2015, the bank's new management learned that the Cypriot company Balakus, affiliated with the bank, had off-balance sheet liabilities in the amount of 2.5 billion rubles, secured by the bank's Eurobonds worth 5 billion rubles.
"For me, collateral of this amount was unexpected," Calvey said.
He said that he had made a plan for the gradual repayment of obligations and the return of pledged Eurobonds, but in 2015 the Bank of Russia radically changed the rules for banks to open deposit accounts in foreign jurisdictions and place their securities on these accounts.
"The new rules provided for a 100% reserve for any securities in foreign depositories. The bank had to immediately return the bonds for 5 billion rubles otherwise it could lose them, and this would lead to a decrease in capital, violation of regulations and withdrawal of the license," Calvey explained.
According to his testimony, a solution was found in issuing a loan to the Russian legal entity First Collection Bureau. This company financed Balakus, ensuring the return of Eurobonds from Cyprus. Calvey noted that the bank could not directly finance the operation, since lending to a foreign legal entity required it to create 100% reserves, which would significantly worsen banking performance.
According to Calvey, through lending it became possible to return the pledged Eurobonds. The loan repayment was later secured by the assignment of shares to IFTG.
Calvey recalled that initially the case had been opened because of the alleged overvaluation of IFTG shares, but later this charge was re-qualified.
"All these are parts of ordinary commercial activity. Not always, and not all investments are justified and capable of generating income. It often happens that an investor must fix losses. This is normal practice, and often contradictions arise between investors as well, but this is not a reason to start a criminal process, such disputes are resolved by civil arbitrators," the founder of Baring Vostok concluded, recalling that Vostochny Bank has refused financial claims in this case.
Baring Vostok's case
On February 13, 2019, Russia's Investigative Committee launched a criminal case into the embezzlement of 2.5 bln rubles ($33.7 mln) from the Vostochny Bank following a complaint by Serzod Yusupov, a minority shareholder in Vostochny Bank, filed with Russia's Federal Security Service (FSB). Michael Calvey is the key defendant in the case.
According to the investigation, Calvey put together a scheme to embezzle 2.5 bln rubles in the course of lending funds to the First Collection Bureau company in 2015.
On February 15, 2019, law enforcement agencies arrested Calvey and five others: Vagan Abgaryan, a partner at Baring Vostok, Philippe Delpal, an investment partner for the financial industry sector at Baring Vostok, Ivan Zyuzin, investment director at Baring Vostok, along with General Director of the First Collection Bureau Maxim Vladimirov and Alexey Kordichev, an advisor to the Management Board of Norvik Bank. They are all facing charges under Part 4 Article 160 of Russia's Criminal Code (fraud committed on an especially large scale by an organized group).