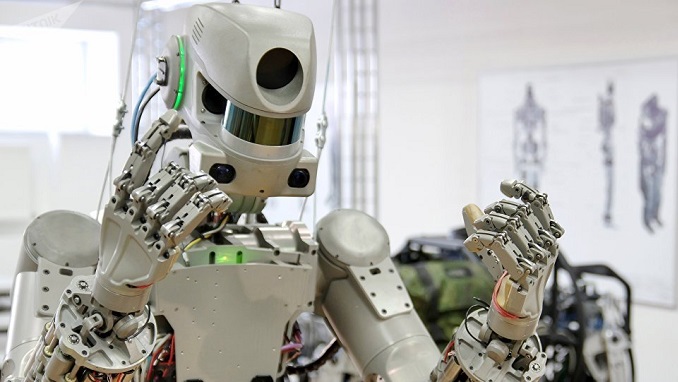 Serial production of humanoid robots that are able to integrate into business processes were launched by Russian company Promobot, the firm's co-founder Oleg Kivokurtsev told Vedomosti on Monday.
Swiss company Advanced Robotics will purchase about a 1,000 Russian service robots produced by the Perm-based company and will receive exclusive rights to sell them throughout the European Union. The amount of the contract is around $20 million, both parties told Vedomosti.
"We have started production and sale of robots with a human appearance – companion robots. This is the first humanoid android in the world that not only mimics the human appearance but is also able to integrate into business processes. We have already created one prototype, and now we will release a series. We plan to make ten a month – with any appearance, for home and professional use," Kivokurtsev said.
According to the company, the robot copies human emotions: it can move eyes, eyebrows, lips and other "muscles", as well as maintain a conversation and answer questions. The technology developed by the company, as well as its own patented design, allows reproducing over 600 variants of human micro-facial expressions, imitating their emotions as realistically as possible. The company plans to release companion robots for personal use, as a partner in conversation or a personal assistant, for example, to control smart home systems similar to voice assistants.
Promobot, founded in 2015 in Perm, is the largest manufacturer of autonomous service robots in Russia, Northern and Eastern Europe.