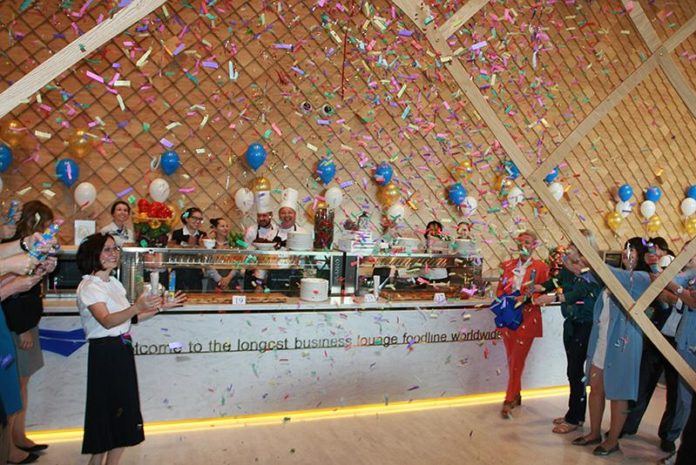 Sheremetyevo became the first Russian airport to set a world record and get featured in the GUINNESS WORLD RECORDS™ history books. The continuous food line in the Rublev business lounge has been officially recognized by Guinness World Records™ as the longest continuous food counter in the world.
An independent surveyor in the presence of an official GUINNESS WORLD RECORDS™ adjudicator measured the counter in the Rublev business lounge and declared its length as 34 meters. After the record was confirmed, the adjudicator presented Ms. Tatyana Kuznetsova (CEO of LLC Sheremetyevo VIP) with the GUINNESS WORLD RECORDS™certificate.
"It is a special honor for Sheremetyevo International Airport to achieve this GUINNESS WORLD RECORDS™ title. Our team aims to provide the highest level of business services, setting customer satisfaction as our top priority. The exclusive interiors of our VIP and business lounges are based on cutting-edge technical and design solutions. It is noteworthy that the longest continuous food counter is in the Rublev business lounge, whose design was recognized as Europe's best by independent evaluators," emphasized Tatyana Kuznetsova.
During the latter part of the ceremony the GUINNESS WORLD RECORDS™ adjudicator, together with CEO Kuznetsova unveiled the commemorative plaque. Written in gold on the front side of the food counter, it states "Welcome to the longest business lounge foodline worldwide!"
The Rublev business lounge is located in Terminal B and is recognized by architects as one of the best in Europe. Its design incorporates various elements of Russian architectural aesthetics. In particular, the pavilions, which divide the lounge into several areas, are designed in the form of braided onion-shaped domes. The interiors were created by the internationally recognized design bureau — M + R interior architecture.
Rublev's area measures 2608 sq. meters. It can accommodate up to 456 guests and has a dressing room, a comfortable lounge zone, a work area and a separate room for children, as well as spacious sleepboxes (aka "pods").
Sheremetyevo also pays special attention to the improvement of business services. The airport offers passengers 5 VIP and 13 business lounges. More than 2.3 million guests used business lounges in 2017, figures that show a 20% increase when compared to 2016.
Sheremetyevo International Airport is the largest Russian airport in terms of passenger and freight traffic, takeoff and landing operations, the area of the airport facilities and the capacity of the cargo facilities.
Upon receiving the GUINNESS WORLD RECORDS™️ award, Alexander Ponomarenko (the chairman of the Board of Sheremetyevo International Airport) stated, "We are honored to showcase our world-class airport. New Terminal B at Sheremetyevo International Airport brings a uniquely Russian experience, including our rich design history and notable hospitality, to all who travel here."