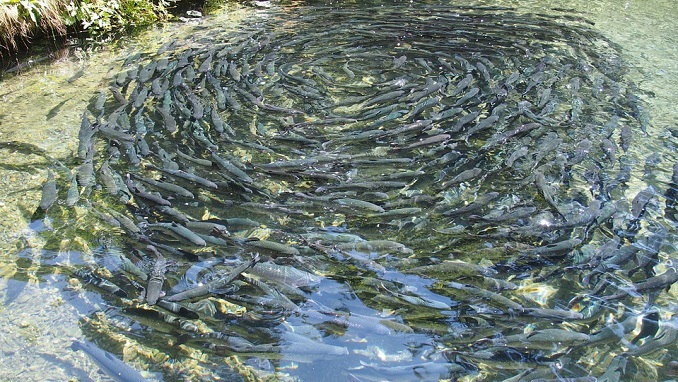 Russian company Aquatrade, owned by billionaire Andrey Katkov, is planning to invest $7.7 million into a new land-based salmon and trout farm in the Leningrad region, the Fish Site reports.
Katkov, who is the owner of Judo Yavara-Neva, one of the largest networks of judo clubs in Russia, and a former sparring partner of Vladimir Putin, is diversifying into aquaculture and will use a new technology, recirculating aquaculture system (RAS), which has never been used before in the country's salmon farming sector.
According to some Russian aquaculture analysts, although it hasn't yet been announced which species it will be stocking, the farm is likely to focus on rainbow trout production, due to high demand for the species in cities such as St Petersburg and Moscow – also, it is easier to source rainbow trout stock than Atlantic salmon in Russia.
The main disadvantage of land-based farmed salmon production is the long payback period, analysts say.
"It takes between two to three years to get the first harvest and sale of fish from the release of fry to market," says Ilya Bereznuk, managing partner of Agro & Food Communications and a former spokesperson for Russian Aquaculture. "This period will likely be longer in land-based fish farming."
Aquatrade's operation may also include the production of some sockeye and chum salmon and at the initial stage will have the capacity to produce about 2,000 tonnes of fish per year. This will make it one of the largest salmonid farming operations in Russia.
The project will require an estimated $40 million investment – most of which will be self-financed, while the remainder will be provided by local bank loans.
Boris Shevelev, general director of Aquatrade, said that the entire complex will be located on a 42-hectare site. He also added that the project's implementation will be carried out in three stages, the first of which will be completed in 2021; the third phase will be finished by 2023, when the complex will reach capacity. The new farm will be vertically integrated, taking the fish from eggs to finished consumer products, and construction work on the RAS is already underway.