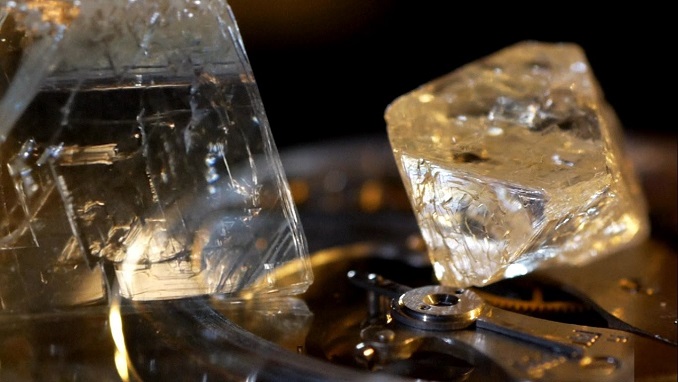 A criminal ring was uncovered last week by Russian police in the sales arm of diamond miner Alrosa, RIA Novosti reported.
An Alrosa employee and two outside associates – one an intermediary and the other who sold the stolen goods – was uncovered by Russian police. The three ring members are suspected of stealing "millions of dollars' worth of diamonds over an extended period of time from the company," Russian media reported.
"The criminal group included an employee of Alrosa who directly committed the theft of diamonds in the company, Elena Kanunnikova, a citizen of Russia and Georgia Vladimir Tabidze, who was a mediator, and a citizen of Russia, Vladimir Gordinsky, who was responsible for the sale of precious stones," said Svetlana Petrenko from Russia's Federal Security Agency (FSB).
The employee was detained last week (June 10) as she attempted to leave Alrosa's premises with $340,000 worth of stolen diamonds on her. The cops then raided her home and the home of her associates and found over $2.5 million in cash, about $3 million in stolen diamonds, and diamond-encrusted watches and jewelry.
"ALROSA completely confirms information from Russia's FSB (security service) about the interception of an extensive scheme to steal rough diamonds in the company's United Selling Organization," the company said in a statement.
The Investigative Committee, Russia's version of the U.S. FBI, initiated a criminal case under Part 4 of Art. 158 ("Theft"), Part 2 of Art. 191 ("Illegal circulation of natural gems") of the Criminal Code of the Russian Federation. The detainees have already been charged.