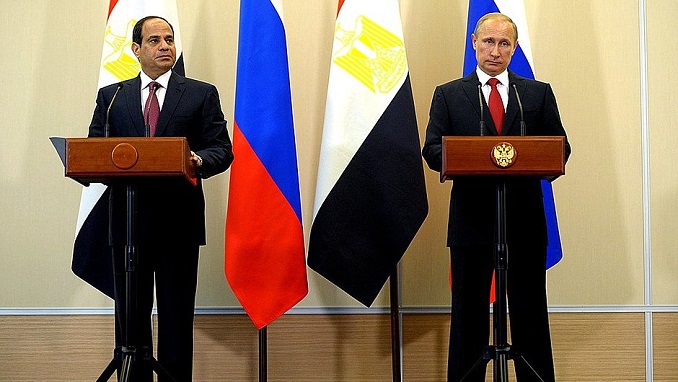 After two years of negotiations and over a half-century of aspirations, a landmark contract to build the first Egyptian nuclear plant was finalized in December. In 2014, President Abdel Fatah al-Sisi agreed with Russian President Vladimir Putin that Moscow would cooperate in building the plant.
A year later, on November 19, 2015, an agreement was finally signed between Egypt and Russia, with the latter extending a $25 billion loan to Egypt to cover the cost of the construction. The loan is set to cover 85% of the plant, with Egypt funding the remaining 15%. The plant will be built on approximately 12,000 feddans and is expected to create over 50,000 job opportunities.
Still, the contract terms were negotiated for another two years. Last month, Putin answered Sisi's invitation to visit Cairo and witness the signing of the Dabaa deal. Four contracts were signed on December 11, 2017 by Egypt's Minister of Electricity and Renewable Energy Mohamed Shaker and the director general of Rosatom, Alexey Likhachev.
According to analysts, the nuclear plant deal, along with Egypt agreeing to a five-year reciprocal arrangement to allow Russian military planes to use Egyptian facilities and airspace, are signs of Russia cozying up to Egypt in a bid to expand its energy and military presence in the Middle East.
"The military concern is that Russia could utilize these gains to project more power into the Mediterranean and create greater advantages in Syria. Naturally, both Egypt and Russia play up the counterterrorism aspect of their partnership. Economically, Russia may be attempting to circumvent the negative effect of sanctions by ramping up arms sales to the region. Diplomatically, this continues Russia's bid to reassert its worldwide presence and prestige," security expert Lamont Colucci, Associate Professor of Politics and Government at Ripon College, writes in an opinion for U.S News and World Report.
Russia's moves in Egypt haven't gone unnoticed in the U.S. "Russia is attempting to increase their influence throughout the Middle East, as we have seen in Syria," General Joseph Votel, Centcom's commander, told the Senate Armed Services Committee last March.
"We have seen them do things certainly with our longstanding partner Egypt and others across the region. So it is my view that they are trying to increase their influence in this critical part of the globe."
"This strategic calculus was created by the Obama administration's withdrawal (perceived and real) from the region. The Russians have utilized their success in Syria to regain certain foreign policy goals left over from Soviet strategic objectives. Some analysts have missed the point by stressing Russia's more limited current strategic capabilities rather than looking at long-term (and historical) Russian goals and trends," Colucci concludes.