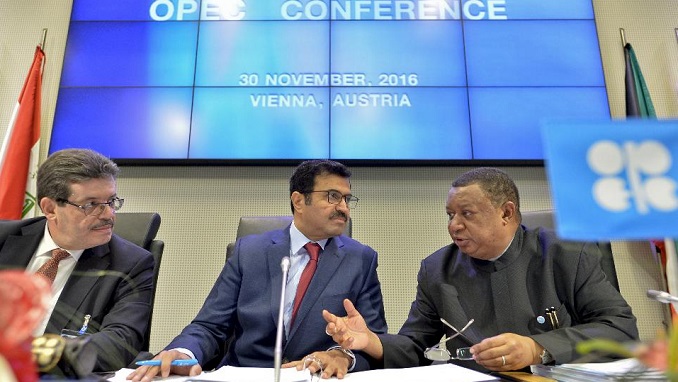 Questions are being raised about the longevity of OPEC and Russian collective production cuts, after a surge of Brent crude prices over the last few weeks brought the price to $70.
"Top OPEC officials surely did not expect such a dramatic run-up in prices, at least not this early in the year. Both OPEC and the IEA have forecasted a rebound in crude storage levels in the first half of this year, a trend that was thought to keep a lid on any price rally. The working assumption was that oil prices wouldn't dramatically improve until mid-2018", Nick Cunningham writes in an analysis for Oil Price.
The surge has prompted warnings — from Iran's oil minister to Goldman Sachs — of a fresh surge in U.S. production, wrecking all of OPEC's hard work. The market is watching for clues about OPEC's resolve. Russia's energy minister said last week that OPEC and the non-OPEC coalition would begin discussing the possibility of a "smooth exit" from the production cuts, according to Reuters.
Russian energy minister Alexander Novak also tried to tamp down concerns about prices rising too much too fast, arguing that the rally was likely temporary.
"We see that the market is becoming balanced. We see that the market surplus is decreasing, but the market is not completely balanced yet," he told reporters. "Of course, we need to continue monitoring the situation."
The chief of Russian oil company Lukoil said last week that Russia should exit the deal if oil prices remain at $70 per barrel for more than six months.
"The big concern is prices — are they worried about prices going too high too quickly?" Mike Wittner, head of oil-market research at Societe Generale SA in New York, told Bloomberg. "There are many reasons they'd be concerned, but top of the list is: how will US production respond?"
With plenty of surplus oil still around, ministers from the United Arab Emirates, Iraq and Kuwait insist there's no need to change strategy and the cartel will stick with its plan to restrain production for the rest of the year. Nonetheless, the price jump means that delegates gathering in the Omani capital of Muscat face increased urgency to decide how to phase out the curbs.
"Getting too far above $70" can both stimulate new supply and affect the economy, Jeff Currie, head of commodities research at Goldman Sachs, said in a television interview. "OPEC members do not want to see that."