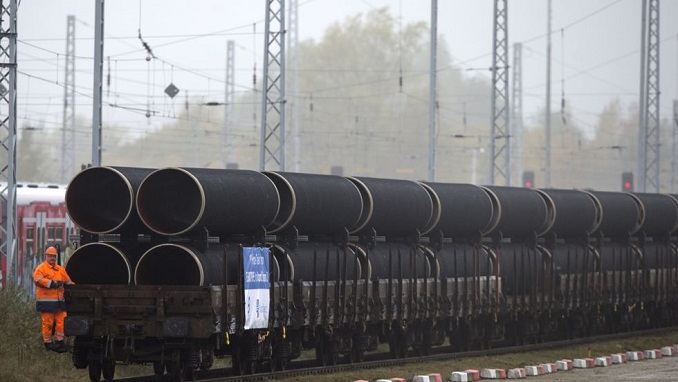 The Polish antitrust and consumer protection watchdog will file charges against Russia's state-owned gas giant Gazprom and five companies financing the Nord Stream 2 pipeline, Bloomberg reported.
Poland has fiercely opposed the second Nord Stream pipeline which is planned to bring gas directly from Russia to Germany, Europe's biggest market for the fuel. Warsaw argues the project will increase Europe's dependence on Russian energy and risk isolating transit nations such as Ukraine.
In 2016, Gazprom ended a Nord Stream 2 shareholder agreement with Royal Dutch Shell Plc, BASF SE, Uniper SE, OMV AG and Engie SA after the Polish regulator blocked the creation of a joint venture.
The project would concentrate almost all Russian exports to the EU into one route, doubling the amount of gas transported from Russia to Germany to 55 billion cubic meters (bcm) a year.
The cost of the 1,200-km (746-mile) pipeline has been estimated at €9.5 billion ($10.3 billion) and construction along the seabed is scheduled to begin in 2019.
Gazprom accounts for over 60 percent of European gas imports and plans to increase its exports to Europe to 200 Bcm. In 2017, Gazprom's gas exports were at an all-time record of 194.4 Bcm. Moscow is also planning a pipeline via Turkey to southern Europe, TurkStream, but it would only transport 16 Bcm, hence the significance of Nord Stream 2.
Gazprom gas deliveries to Europe reached an all-time high in March, beating a previous record from January 2017, the Russian company says. In the first quarter of this year, Gazprom's gas supply to Europe increased by 6.6 percent compared to the same quarter last year.
At the end of April, Gazprom's Deputy Chairman of the Management Committee, Alexander Medvedev, said that the Russian company was currently shipping as much gas to Europe as it typically does in winter months, and expects demand this summer to be close to winter levels.