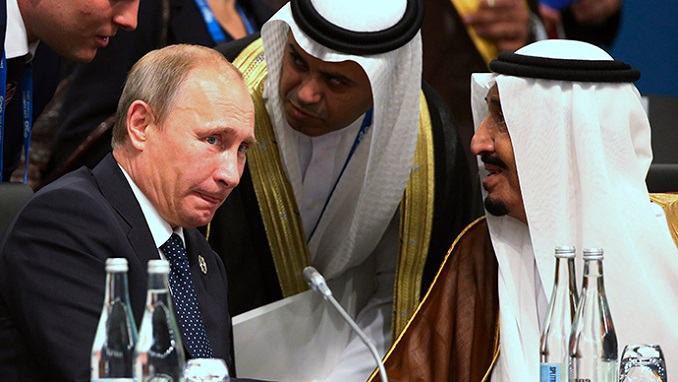 In order to strengthen the partnership between the world's two top oil producers, Russia and Saudi Arabia, Moscow is encouraging the country's pension funds to consider investing in Saudi Arabian state oil major Aramco when it lists its stock, Russia's top state investment officer said, according to Reuters.
Kirill Dmitriev, the head of Russia's Direct Investment Fund, said on Tuesday that Moscow and Riyadh should be coordinating oil policies for many more years.
"We see great interest in the Aramco IPO from Russian pension funds as well as from our Chinese partners," said Dmitriev, who two years ago was the first Russian official to suggest the possibility of a joint oil output deal with OPEC.
The names of the funds or the amount they were prepared to invest couldn't be disclosed, Dmitriev said.
Last year, Chinese state oil companies were willing to become cornerstone investors in the Saudi Aramco IPO which could become the world's biggest, valuing the firm at up to $2 trillion and raising more than $100 billion.
"Russia already has significant positions in the oil business so it is hard to expect us taking a very significant stake during the IPO," Dmitriev said on the sidelines of the World Economic Forum in Davos.
He added that the deal would help strengthen growing cooperation with Riyadh.
Non-OPEC Russia and OPEC led by Saudi Arabia agreed to cut oil output by 1.8 million barrels per day (bpd) or around 2 percent of global production throughout 2017 and 2018, in a move that has helped oil prices to double from their 2016 lows to around $70 a barrel.
"Extending such cooperation for many more years would be very useful for the market. It has proven its efficiency when we were targeting balancing supply and demand rather than targeting a particular oil price," said Dmitriev.
OPEC has said it wanted global oil stocks to return to a five-year average and the group's officials have said that target could be reached by the middle or end of 2018.
But even when the target is reached, OPEC has insisted it would exit from cuts gradually in order not to shock the market.
"Future mechanisms of cooperation and concrete tools could differ," said Dmitriev.
He said oil producers had generated an extra $600 billion in revenues thanks to oil cuts and higher prices over the past year, which allowed them to resume investments and guarantee no supply shortages in the future.