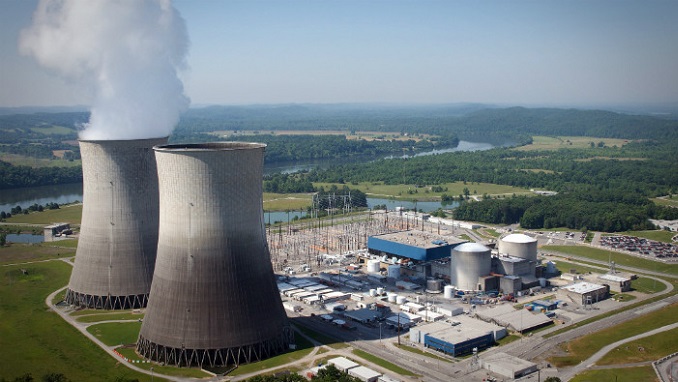 A Russian-owned firm based in the Czech Republic, Skoda JS, could start building two new reactors at the Khmelnitskiy nuclear power plant in Ukraine, some 300 kilometers west of Kyiv, Radio Liberty reports.
If completed, the reactors would double the plant's electricity output. But investigative reporters are raising questions and concerns over the legality and safety of the proposed project.
Journalists with Schemes, RFE/RL's investigative program, revealed on Thursday that Skoda JS had already been chosen for the project, valued at more than 70 billion hryvnia, or at least $2.5 billion.
Russian-owned Škoda JS "was chosen for this without an open tender" the investigative journalists have reported, despite there being other options, such as companies from Korea, the U.S. and France.
Škoda JS is a subsidiary of Netherlands-registered OMZ BV, which appears to be a front for the Russian company United Machine Building Plant (OMZ), in turn owned by Russia's state-owned Gazprombank. Russian energy giant Gazprom and its related company structures hold a majority stake in Gazprombank.
Ukraine has imposed sanctions on Gazprombank, but not Škoda JS, although the Czech-based company is reportedly under U.S. and European sanctions.
Bosses at the Khmelnitsky nuclear power plant explained to reporters that Škoda JS was mainly chosen on the basis of low cost, adding that the company was significantly cheaper than other potential suppliers, such as Korean manufacturers or U.S.-based energy company Westinghouse.
The Khmelnitskiy nuclear power plant, operated by Ukraine's state-owned nuclear agency Energoatom, currently has two 1000 megawatt reactors but was intended to eventually have four. Construction began on two new reactors in the early 1980s but was stopped, due to a moratorium on the construction of new nuclear plants following the 1986 Chernobyl disaster.
Ukraine and Russia signed new agreements in 2010 to resume and complete the plant's upgrade, but the Ukrainian government canceled this agreement in 2015, later pursuing a deal with Korean manufacturers instead.