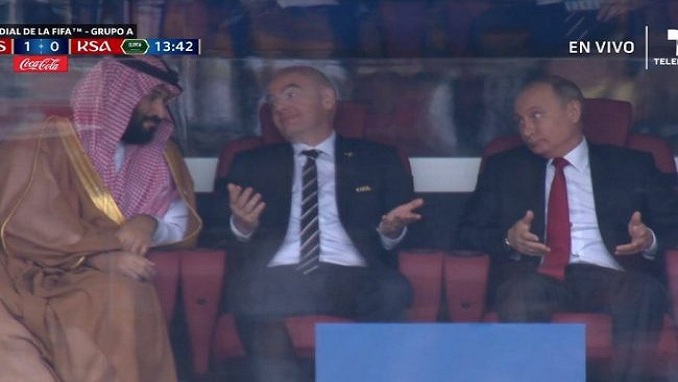 Saudi Arabia and Russia said Thursday they will develop a "comprehensive bilateral agreement" on energy cooperation, suggesting that even if the OPEC/non-OPEC production-cut agreement falls apart, they will continue their market-management efforts.
According to RFE/RL, in a statement issued after they met in Moscow, Saudi energy minister Khalid al-Falih and his Russian counterpart Alexander Novak said they would strive "for a balanced market that is supported by a reliable and sufficient supply."
Their efforts were endorsed by Saudi Crown Prince Mohammed bin Salman and Russian President Vladimir Putin, who also met earlier Thursday ahead of the 2018 World Cup's opening match between the two nations.
"Without a doubt, we would like to continue this cooperation and move forward," Salman said during the meeting with Putin, according to a Kremlin transcript. "Today we have a very historic OPEC+ agreement in place, OPEC and non-OPEC countries are working together."
Putin also praised the burgeoning political and economic ties between the two countries and endorsed the crown prince's call for greater cooperation on energy issues.
"We will continue working together in the most important area for us," Putin said.
Warming ties between Saudi Arabia and Russia — two of the world's top three oil producers — have been a game changer in the market, leading to the 1.8 million b/d production cut agreement sealed in late 2016 to eliminate a global inventory overhang.
OPEC is set to meet June 22 in Vienna to decide the future of the deal, with non-OPEC partners, including Russia, joining the meeting a day later.
Saudi Arabia and Russia have been keen to pump more barrels to moderate oil prices and prevent a supply gap resulting from continued production declines in Venezuela and the potential impact of US sanctions on Iran, which snap back November 5.
Novak said earlier Thursday that the OPEC/non-OPEC coalition could consider raising production as much as 1.5 million bpd.