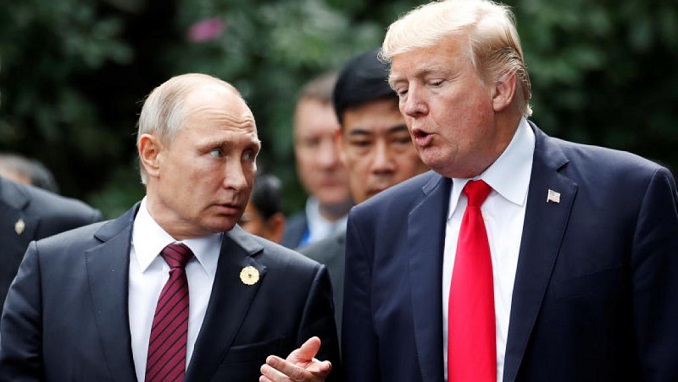 U.S. President Donald Trump claimed on Saturday that Russia has looked to receive economic assistance from the United States and also praised his own summit with Russian President Vladimir Putin, according to pro-Kremlin news outlet Sputnik.
In a speech at a rally in the state of Illinois, Trump said:
"I had a great meeting with Vladimir Putin, great meeting. I talked about everything, we will do great. And don't forget — Russia wants our help economically. We have created such wealth. I have done a really good job – $11.7 trillion. Russia wants us to be involved. Everybody wants our help."
Relations between the United States and Russia have plummeted following Moscow's annexation of Ukraine's region of Crimea on 2015. Washington has imposed several rounds of sanctions against Russia, with more and tougher measures planned for next month.
But according to a survey carried out by the American Chamber of Commerce in Russia this year, most U.S. companies remain positive about their work in Russia, despite sanctions imposed by Washington. In particular, the survey revealed that almost 70 percent of US businesses intended to start new projects in Russia in 2019, and almost 90 percent planned to either increase their investment in Russia or at least maintain them.
Russian Deputy Foreign Minister Sergey Ryabkov said Wednesday that prospects for the development of the Russia-US economic relations were better than they appear.
"I want to confirm the continued interest of business circles in both countries to expand cooperation and at least continue in-depth interaction […] Including start-ups, the aviation industry, and pharmaceuticals," Ryabkov told Russia's Channel One broadcaster.