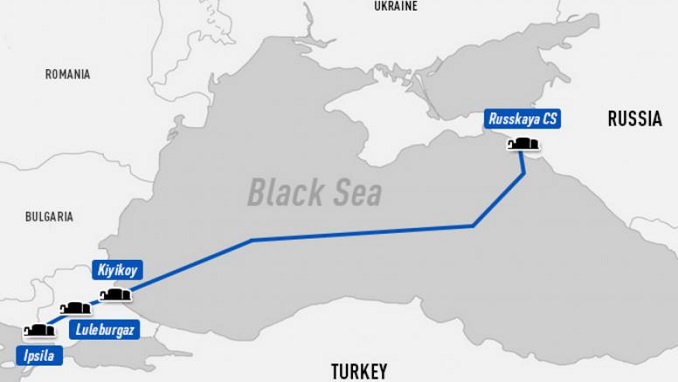 Gazprom has confirmed that the offshore section of its Turkstream pipeline project in the Black Sea has been completed, Investing.com reported.
Gazprom subsidiary South Stream Transport handled the construction of the offshore section, while the contract for both pipelines was awarded to Allseas Group.
Allseas deployed the Pioneering Spirit pipelaying vessel to complete the construction.
The Russian state-owned oil and gas giant is building the TurkStream project with two 930km-long parallel offshore pipelines with a combined capacity of 31.5 billion cubic metres of gas a year. While the first pipeline will deliver gas to Turkey, the second will cater to European countries.
At a ceremony held to mark the occasion, attended by Turkish President Recep Tayyip Erdogan and his Russian counterpart Vladimir Putin, the two leaders gave the command to weld the final joint of the second line of the gas pipeline.
"Construction of TurkStream, a new gas pipeline connecting Russia and Turkey via the Black Sea, is entering its final stage. The work is well ahead of schedule: the offshore section of the gas pipeline was completed as early as today instead of in December as planned earlier," said Alexey Miller, the head of Gazprom's Management Committee.
Miller added that the pipeline will ensure energy security in Turkey and the countries of southern and southeastern Europe.
But the West has insisted that Turkstream is another of Russia's tools to extend its geopolitical reach in Europe and the Balkans. According to analysts speaking to Bloomberg, the project takes Russia one step closer to tightening its natural-gas grip on Turkey and southern Europe just as the U.S. aims to curb the expansion of Kremlin-backed energy projects.
While the U.S. administration hasn't threatened specific sanctions against TurkStream — focusing instead on Gazprom's other major pipeline project, Nord Stream 2 — the Kremlin isn't ruling out possible U.S. restrictions on the Black Sea link.
Once TurkStream comes online, Gazprom aims to cut shipments via Ukraine, which remains the main transit route for Russian gas despite a standoff with the Kremlin. Last year, around half of Russian gas exports outside the former Soviet Union were sent through Ukraine.