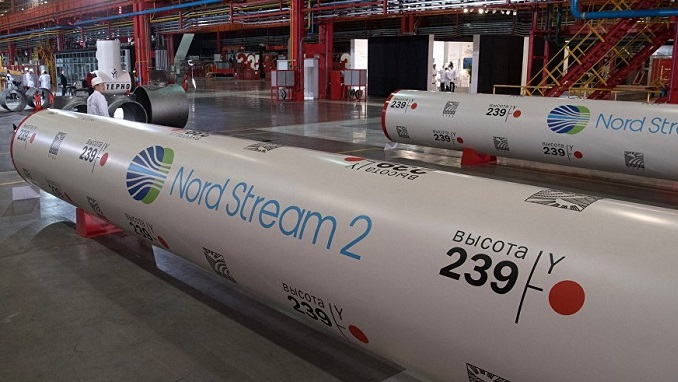 Despite Russia's war on Ukraine and its occupation of Crimea, Kyiv wants to keep Russian gas transit even after 2019 — the year Nord Stream 2 and TurkStream pipelines are due to be launched, The Kyiv Post reports.
In gas transit, Ukraine has only one customer: Russia. Kyiv risks losing an estimated at least $2 billion in transit fees — a serious blow for an economy with a gross domestic product of only $100 billion.
Russia is unhappy with the conditions under which it transits its gas through Ukraine, which is why it is trying to push through the construction of two new gas pipelines — one to Germany and the second one to the Turkish-Greek border. If built, the two pipelines — with a combined total capacity of over 85 billion cubic meters of gas a year — would mean Russian transit gas could completely bypass Ukraine.
Ukraine broke up with its main gas supplier Russia after the Kremlin seized Crimea and occupied part of the eastern Donbas region in 2014. Ukraine stopped buying gas from the aggressor for more than two years until the Stockholm International Court ruled that the country has to import 5 billion cubic meters of gas over the next two years until its present contract with Russia ends.
Russia uses up 80 percent of Ukraine's gas transportation capacity, according to state operator UkrTransGaz. Last year, Ukraine transported 86 billion cubic meters of Russian gas through three pipelines that are roughly equal to the total capacity of Russia's soon-to-be-built pipelines.
"As a monopolist, Gazprom aims to control every component in the value chain, starting from gas extraction in Siberia to its delivery to European consumers," said Roman Nitsovych, a program director at Dixi Group, a Kyiv based energy analytics center. "And Ukraine's gas transmission system is the only route Russia has no control of — that's why it wants to bypass us so much."
In the meantime, the EU is split regarding the Nord Stream 2 pipeline project, with different states concerned over its security, economic, and environmental implications.
According to the project's plans, the new pipeline will increase the total amount of gas delivered from Russia to Germany to 110 billion cubic meters — double the present amount. The cost of the 1,200-kilometer pipeline is estimated at 9.5 billion euros. Russia's Gazprom has been backed by German politicians and European energy companies OMV AG, Wintershall, Uniper SE, Engie SA, and Royal Dutch Shell Plc.
However, the project is strongly opposed by the Baltic States, Slovakia, Poland, and Ukraine — mainly for the looming losses of billions of dollars in transit fees. But there are broader security concerns, as Gazprom already supplies almost a third of current EU gas consumption. Critics view energy dependence as a Kremlin lever of political influence over Europe.