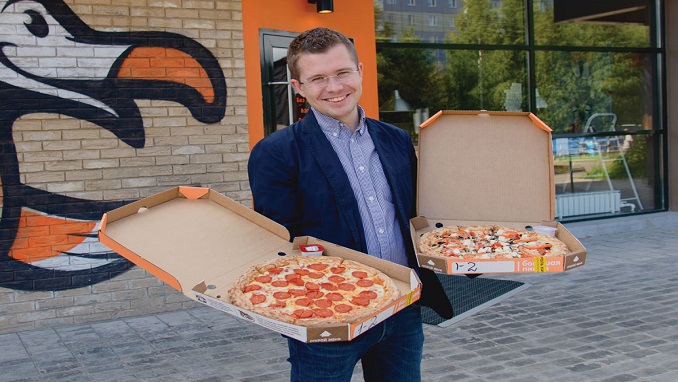 Fyodor Ovchinnikov, the freshly crowned franchise czar of Russia is betting beyond his country and into global expansion with the help of cloud technology, Bloomberg writes in an analysis of the rise of the billionaire's company, Dodo Pizza.
From a single basement oven in his native Syktyvkar in the Far North, the failed bookseller and serial blogger has turned Dodo into one of Europe's fastest-growing restaurant chains, leapfrogging Papa John's, Domino's and Pizza Hut in his home market in just eight years, the news outlet writes.
An archaeologist by education, 38-year-old Ovchinnikov and his franchisees have opened 457 pizzerias in Russia and 69 in 11 other countries. Dodo owns 23 of those itself, including its new flagship in China. Now he's planning to add another 1,000 in Europe, Asia, and Africa over the next five years, a goal few people in the industry doubt he can achieve.
To achieve his goal, the company plans to use Dodo IS, a proprietary mix of application software and analytics stored in the cloud. Overseen by a "chief agile officer" and maintained by 120 technicians, it provides, among many other things, instant monitoring of cash flows, inventories and service times at every location in the network, all viewable with just a few taps on a tablet. And mandatory, live-streaming kitchen cams allow anyone with an internet connection to watch a Dodo pizza being made.
"We're a cyborg company," Ovchinnikov said in an interview with Bloomberg at Dodo's headquarters in Moscow. "We're half food and half tech. That's our advantage. We're incredibly efficient."
Another selling point of Dodo IS, which Ovchinnikov's programmers are working on now, is the ability to automatically create marketing campaigns for individual locales when sales dip below a certain threshold. Or, as he likes to put it, "when labor productivity is getting low."
"While global fast-food giants led by McDonald's are spending billions to develop delivery services, Dodo is redesigning its restaurants to attract more foot traffic and achieve what Ovchinnikov calls perfect 'brand balance', which is sales parity between dining and delivery," Bloomberg writes.