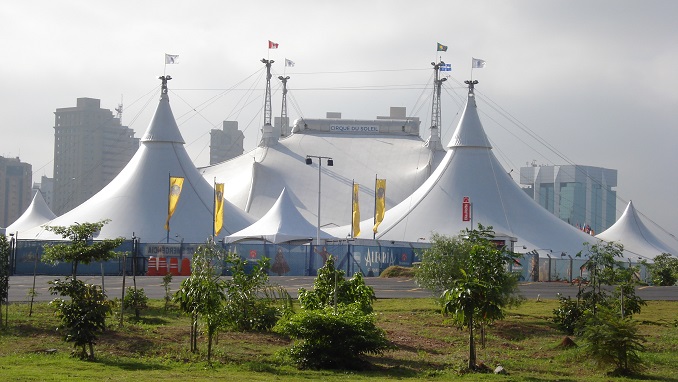 The opening of the Canadian Cirque du Soleil's stationary stage in Skolkovo is "unacceptable and wrong," Edgar Zapashny, the director of the Big Moscow Circus, has said during a meeting of the Presidential Council on Culture and Art on Saturday, RIA news agency reports.
According to him, the move will negatively affect Russian circus and sports. The opening of the Cirque du Soleil site in 2019 had previously been announced by Russian billionaire Mikhail Gutseriev.
"No one bothers to come to us on tour, but this will definitely have a negative impact not only on the Russian circus, but also on Russian sports," Zapashny added.
He stressed that a Russian circus or theater would hardly have allowed to open a permanent branch in Montreal, where Cirque du Soleil is based. At the same time, Zapashny said that the investment that Gutseriev intends to put in the Canadian project would be useful for Russian art.
According to a transcript from the meeting, President Putin agreed that the opening of the Canadian circus on an ongoing basis can pressure the local market.
"It's not worth breaking the gate open," the Russian leader noted. He acknowledged that Cirque du Soleil would be popular with the public, but agreed with Zapashny.
"To view the show is one thing, and letting them develop here on our soil, on our base is a completely different story, my position is very close to yours," the president said while promising to "deal with this issue."
The Amphion concert hall for 8500 seats is planned to open in 2019. Its construction is carried out by the A.N.C. Corporation and Amphion LLC companies, which are part of the Mikhail Gutseriev's Safmar group of companies. Anschutz Entertainment Group (AEG) and Cirque du Soleil are also participating.
Founded in 1984, Cirque du Soleil is the largest theatrical producer in the world. Mikhail Gutseriev is ranked 24th in the rating of 200 richest businessmen in Russia, according to Forbes. The magazine estimates his fortune at $4.8 billion.